11 Common Reasons for Home Floods: A little preventative maintenance goes a long way
Unfortunately, water from some kind of flooding is one of the most frequent disasters confronted by homeowners. Water damage prevention is much easier than
water damage restoration
, so it's important to be aware of the most common causes of home flooding:
1. Broken Pipes
Broken pipes can cause serious floods in a home, because water is continuously going through the pipes from multiple sources. A broken pipe has the potential to quickly flood your entire house.
Broken pipes can be caused by a number of things, including freezing temperatures, poor water quality that leads to corrosion, or loose fittings. It's important to know where your pipes are located, and to check them periodically. 
Also be aware of where pipes are outside to reduce the likelihood of damaging a pipe that can cause a flood.
2. Leaky Water Heaters
Water heaters can cause serious water damage in your home. They usually are
installed and then forgotten. Because they constantly fill with water, even small leaks can cause significant damage.
Inspect your water heater regularly. If there is dampness around the base
or on the walls near it, that could be a sign that it's getting old or not being properly maintained. If you have even a tiny leak, have it checked by a plumber to avoid any structural and water damage.
3.
Malfunctioning Appliances
You probably own a number of large appliances that require or emit water, including your washing machine, dishwasher, refrigerator, garbage disposal, and air conditioner
There are a number of malfunctions that can happen: faulty hoses, leaky intake values, clogged drains, improper installation, or supply line issues. These leaks can appear harmless, but if left untreated can cause flooding and water damage in your home. 
4. Clogged Drains
Clogged drains are another common cause of flooding. To ensure water flows through your drain pipes without backing up, use a metal mesh drain screen to catch anything that could potentially clog them. It's important to have a drain guard in your kitchen sink too, because food scraps such as eggshells, vegetable peels, and grease can back up in your pipes. 
It's important to know that anti-clog solutions will only temporarily fix the clog and the chemicals may cause corrosion to your pipes. Be mindful of what goes down your drains.
5. Clogged Gutters
Rain gutters are designed to divert water away from your house, but debris can build up in your gutters, especially during the fall, and can cause clogs that lead to gutter overflow. The excess water overflowing over the side of your gutters rather than being directed away from your house, it can pool around your foundation and could cause serious flooding. Clean out your gutters regularly to make sure they continue to divert water away from your home.
6. Foundation Damage
If your home's foundation has flaws or cracking, it can allow water to enter through the floors. Your home's foundation is always resting on the ground, even when it becomes over-saturated with water from storms, melted ice, snow, or other precipitation. 
If your home rests on a good, solid foundation it probably won't be affected, but damaged foundations can lead to severe floods. Foundation repair is then needed to prevent flooding. The cost of foundation repair is usually less than the expense of salvaging what's left after a major flood.
7. Failed Washing Machine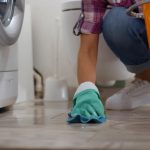 Leaks from washing machines can originate from unseen sources beneath and around the base. Water can even flood from the back of the unit to the front; running along the floor if your washer is on a slanted surface.
8. Poor Floor and Wall Sealing
If the basement has not been sealed properly during the construction of your house, water will easily seep through, especially during an extreme weather event. If your basement often fills with water after heavy downpours, check its sealing. Be sure to take the necessary measures to fix it.
9. Clogged Toilet
A toilet will overflow if the pipes that lead water out of the toilet become clogged. This flooding occurs usually because of things going down that pipe that don't belong there or will not break down, like too much toilet paper, solid objects, food, and feminine products.  
10. Sewer Backup
Shrubs and trees looking for moisture can make their way into sewer lines, causing cracks and causing extensive damage. And as the tree or shrub continues to grow, so do the roots. And, tree roots can enter the service pipe at the joints and cause blockages.
11. Unsuitable location
Many basement floods are caused by the fact that a house has been built on an unsuitable site, or grading is done improperly. Houses should be constructed on terrain that slopes away from them, which allows accumulated water to drain away.
If the Worst Happens, Call Complete for the Best in Water  Damage Restoration
As water damage restoration experts, we use state-of-the-art equipment and a team of IICRC Certified technicians to purge your property of water and moisture. Our skilled technicians have proven expertise in water damage removal and
provide professional services 24/7
, so if you discover flooding, we should be your first phone call. 
We provide services that include:
Dehumidification service

Water extraction services

Complete structural drying,

Mold and environmental remediation

Content Cleaning

Drying and reprocessing

Document salvage

Electronics restoration

Structural repairs
To us, your satisfaction comes first, and our emergency crews are always ready with the equipment to come to your rescue as and when the need arises.
24 Hour Emergency Service
Our emergency response teams are available 24 hours a day, 365 days a year using the most up-to-date technologies and is proud to employ quality professionals with superior skills and certifications. Our team is fully insured, licensed, and is registered to do business in the Pensacola, FL, Tallahassee, FL, and Mobile, AL areas.