The Ins and Outs of Handling Water Damage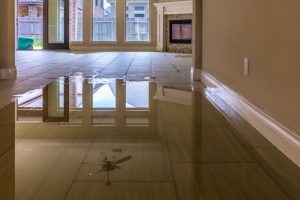 It's one of the most common—and can be among the most costly—disasters your home can experience: water damage. 
This may be one of the most important resources our bodies and homes need, but it can
cause a lot of damage in excess
. 
When it comes to handling a burst pipe or leaking roof, check out these tips:
Prevention
Properly maintaining your home is the main way to prevent water damage. In order to prevent basement or crawlspace water seepage and plumbing problems, try to keep up on
these maintenance items
:
Reseal your basement flooring and recaulk windows. Sealing cracks in your basement or crawlspace floor or the perimeter of your windows will guard against water seepage.

Make sure water flows away from the home. Soil can shift and settle in a way that directs water toward your house, meaning seepage will worsen because rainwater will flow down the outside of the foundation wall and potentially through any cracks.

Install an emergency pressure release valve in your plumbing system. This will protect against the increased pressure caused by freezing pipes and can help prevent pipes from bursting.

Inspect appliance hoses, faucets, sinks, bathtubs, and plumbing and heating pipes. Regularly checking these items for cracks and leaks allows you to get ahead of the problem before something completely breaks

Check downspouts, sprinklers and irrigation systems. Remember the exterior of your house is important to inspect too. All water should be directed away from the house.

Keep items stored in waterproof bins off the floor. Protecting your items against water damage in the first place is a key step in preventing yourself a headache down the road.
Another reason to take these precautionary measures is to mitigate the chances your insurance claim is denied due to negligence or lack of maintenance. Proving that you've done all preventative measures will come in handy when it's time to submit a claim.
Insurance
If you do have water damage in your home, it is important to understand
whether it will be covered by insurance
. Generally speaking, if the damage is sudden, like a pipe burst, it will be covered. Gradual damage, such as a bathtub that has continued to leak over time, is not. However, you'll have to take a look at your specific insurance plan for the most accurate answer.
What happens next?
After you've filed your claim and if it is accepted,
the following steps will typically happen
:
A call from you or the insurance company should be placed to a restoration expert such as

Complete

.

Once the team arrives, you will sign a work authorization so they can begin the water damage restoration cleanup immediately.

The restoration consists of finding the root cause and source of the water damage, removing water from the property, then drying the dampness.

Once the immediate issues are resolved, you will work with the restoration expert and your insurance company to establish an agreed-upon scope of repairs.

After the estimated cost of repairs is generated and the insurance company agrees to it, the restoration and reconstruction process begins.

During this portion of the process, the restoration project manager will work with you and the tradesmen to ensure quality work.

You and your insurance company will then work out payment for these repairs before you take a final walk-through with the project manager to ensure satisfactory completion.
Repair
Water damage can be an overwhelming disaster. Leaving the restoration to the professionals can help ease some of the stress. It is important to call in an experienced team to handle the repairs because the water damage can pose a risk to your health and safety. The severity of water damage can range from
category 1 to 3
:
Category 1 involves uncontaminated water that does not pose significant health risks; however, this type of damage can develop into a category 2 concern within a day.

Category 2 involves gray water with small amounts of contamination. It can turn into a Category 3 problem if unresolved for more than 48 hours.

Category 3 consists of black water contamination. Black water is highly polluted and can cause significant health problems.
Hiring a professional team allows you to protect yourself from potential exposure to harmful bacteria and pathogens that could lead to severe illness. It will also ensure that the cleanup process is completed correctly the first time.
If you're located in Florida or Alabama,
reach out to Complete
for your restoration needs. Whether you are preventing water damage or need help repairing the damage already done, our team can help you. 
Complete is a leading restoration contractor with offices in the Pensacola, Fla., Tallahassee, Fla., and Mobile, Ala., areas.
24 Hour Emergency Service
Our emergency response teams are available 24 hours a day, 365 days a year using the most up-to-date technologies and is proud to employ quality professionals with superior skills and certifications. Our team is fully insured, licensed, and is registered to do business in the Pensacola, FL, Tallahassee, FL, and Mobile, AL areas.