When You Have Flooding, Don't Make These Mistakes
Water damage. It can happen with a burst pipe, an overflowing washing machine, or when Mother Nature decides to send torrential rains.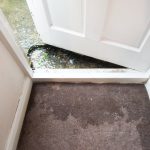 Too much water is destructive and can wreak havoc on your home and everything inside it. As a homeowner, you hope it never happens, but knowing what to do when it does is important.
Water damage restoration isn't easy, and DIY solutions can cause further damage and increase cleanup costs.
Avoid These Water Damage Mistakes
Know what to do and what mistakes to avoid when water makes its way into your home, and why a
professional restoration company
is your best friend in this situation. 
1. Act immediately.
If you wake up in the middle of the night to a basement full of water, call a professional restoration service right away. If you don't, come morning, you'll be looking at an even worse situation and you'll be paying more for repairs than was necessary.
2. Don't try any DIY solutions.
Many homeowners think they can clean up water damage on their own to save money. Without understanding the full scope of the problem, you can actually cause more damage. Professional products, equipment, and technology are needed to do the job properly.
You may not find hidden damage that will cost money later, so a thorough inspection by a professional is important. 
3. Don't underestimate the extent of the damage.
What might appear to you to be minimal water damage may be a more extensive problem. You don't want to take the risk of leaving behind dangerous mold, bacteria, or other toxins.
Don't take a chance and underestimate the scope of the problem and expose yourself or your family to potential health hazards.
4. Don't enter the flooded area.
After evacuating everyone from the flooded house or area, stay away as much as possible until the experts arrive. Entering the house without proper protective gear can expose you to these risks:
Electrocution as a result of electric wires coming into contact with flood water

Contaminants in the water, including various chemical toxins, bacteria and other microbes that can cause health issues.
5. Do take safety precautions.
If you do want to enter the flooded area, you'll need coveralls, boots, gloves and masks, which are things you probably don't have. Or, maybe they're in that flooded basement. This is why water cleanup is best left to professionals. 
Another thing – if you are standing in water, do not touch any electrical appliances or other sources of electricity. Flipping even a light switch can send you to the hospital.
6. Don't try to salvage items.
Items such as clothes, furniture, and other organic-based items can absorb and become saturated with the flood water and all the stuff in it, like bacteria and other harmful toxins. 
7. Don't hire unqualified workers.
Taking care of flood damage is not work for amateurs, so before you rush to hire someone for the job, be sure to ask for recommendations and check the company out online. Don't hesitate to ask them about their experience, insurance, licensing, and warranty policy.
You want to hire an experienced company that uses the
latest water removal techniques
and can handle any problems that come up. 
Complete for Experienced, Reliable Water Damage Restoration
As water damage restoration experts, we use state-of-the-art equipment and a team of IICRC Certified technicians to purge your property of water and moisture. Our skilled technicians have proven expertise in water damage removal and
provide professional services 24/7
, so if you discover flooding, we should be your first phone call. 
We provide services that include:
Dehumidification service

Water extraction services

Complete structural drying,

Mold and environmental remediation

Content Cleaning

Drying and reprocessing

Document salvage

Electronics restoration

Structural repairs
To us, your satisfaction comes first, and our emergency crews are always ready with the equipment to come to your rescue as and when the need arises.
24 Hour Emergency Service
Our emergency response teams are available 24 hours a day, 365 days a year using the most up-to-date technologies and is proud to employ quality professionals with superior skills and certifications. Our team is fully insured, licensed, and is registered to do business in the Pensacola, FL, Tallahassee, FL, and Mobile, AL areas.