8 Ways to Protect Homes That Are Vacant or Under Construction
There are a variety of reasons why a homeowner's property may be vacant and lacking the protection of a full-time dweller to keep an eye on things. For example, they may be renovating, between tenants, still under construction, or transitioning into a new home.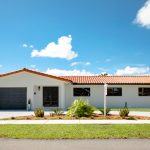 No matter the reason, it's absolutely essential that you take extra measures to protect your vacant property when you're not there to watch over it. Vacant property is especially vulnerable to weather damage, vandalism, thefts, and break-ins because no one is there to keep a watchful eye out. In this article, we will guide you through 8 ways you can protect your vacant home or property until it's occupied again. 
1. Get an Alarm
Yes, this one seems pretty obvious, but if you don't already have the vacant dwelling set up with an alarm, it's time to get one. Your home will be much better protected (at an affordable rate) if the alarm triggered a call to the police instead of you having to dial 9-1-1 yourself. Inform the service provider that the residence will be unoccupied before your departure. 
2. Maintain the House and Yard
Nothing screams, "No one is living here!" quite like overgrown grass and uncared-for shrubs. Even though you may not occupy the home, taking care of the outside of the house is a sign to others that you may be there or you at least are keeping an eye on things.
And speaking of maintenance, make sure to take a look around the house once in a while to make sure things are properly maintained while the structure is unoccupied. Regular maintenance not only gives a consistent presence to the property, but you will also notice things (like leaking pipes or faulty smoke detectors) before they become big problems.
3. Install More Lighting
Lights on both the inside and outside of the home become deterrents from potential vandals or thieves because it looks like someone is home. Install motion-activated exterior lights so that they turn on when someone enters your property and hopefully scares them away. Install a timer on inside lights, especially in the rooms that face the street, to give the illusion that someone is home. Don't give anyone the cover of darkness when you're not there to keep an eye on things. 
4. Park a Car in the Driveway
Sometimes just the illusion of someone being home is enough to ward off intruders. A car parked in the driveway temporarily adds an extra layer of protection to your vacant property. If you don't have an extra to spare, ask a neighbor if they wouldn't mind parking in your driveway while the house stands vacant. 
5. Keep Your Neighbors in the Loop
Getting to know the people around you is always a good thing when you move into the neighborhood. This can also serve you well when you're transitioning out of the neighborhood and will be leaving your house vacant for a while. Before you leave, discuss with your neighbors what your plans are and how long the home will be vacant. Neighbors are great sets of eyes and ears around your place when you can't be there. Make sure they have your contact information should they see anything unusual or suspicious happening on your property. 
6. Install Security Cameras
Property cameras are often visible and can be enough of a warning just by being there. However, should you experience vandalism or theft, they can also be used to help identify the perpetrators. 
7. Consider Buying Insurance
Did you know there's insurance for this very situation? Vacant home insurance often covers acts of vandalism and damage caused by disasters such as fire, lightning, wind, and hail. Your current provider may be able to offer you a bundle with your existing policy to cover your vacant property, too. 
8. Board-Up the Property
When it's appropriate, consider boarding up your property with plywood. Many insurance policies will require that your property be boarded up in order to be covered as a vacant property by the company.
Complete
offers free boarding services after a fire damages your home to make sure what you have left stays safe and sound. 
No matter the reason your home has to be left vacant, take every precaution to ensure that even though you're not there to watch it, it's still well protected. If you experience damage of any kind, turn to Complete to help you restore your home and property. For almost two decades, our reconstruction and restoration experts have helped people in your situation.
Contact one of us
today to discuss how we can help you restore your home.
24 Hour Emergency Service
Our emergency response teams are available 24 hours a day, 365 days a year using the most up-to-date technologies and is proud to employ quality professionals with superior skills and certifications. Our team is fully insured, licensed, and is registered to do business in the Pensacola, FL, Tallahassee, FL, and Mobile, AL areas.