9 Tips to Avoid Cooking Fires During the Holidays
The holidays are times for family get-togethers, and food is a big part of the festivities. But it's important to keep in mind, as you're chopping, slicing, baking, and broiling, that cooking fires are the
most common type of fire
experienced by American households.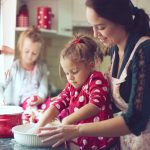 And there's an increased incidence of cooking fires on Thanksgiving, Christmas Eve and Christmas Day. They're also the leading cause of civilian fire injuries in residences.
Here are some tips to avoid a cooking fire and what to do if the worst happens.
Tips to Avoid a Cooking Fire
You can prevent these fires. The kitchen can be one of the most hazardous rooms in the home if you don't practice safe cooking behaviors. Here's how to stay safe:
Stay in the kitchen

. When you are frying, grilling, or broiling food, don't leave it alone. If you have to leave the kitchen for even a short time, turn off the stove.  

If you are simmering

, baking, roasting or boiling food, be sure to check it regularly. Don't leave the house. Check cooking food regularly, and use a timer for items that take a while to cook. A timer not only tells you when your food is done, but it's also a reminder that you have something in the oven or on the stove. 

Stay alert!

It might be tempting to make chocolate chip cookies at midnight, but this is prime time for fires. If you're sleepy, have been drinking alcohol or have taken medicine that makes you drowsy, you might just fall asleep, those cookies burn to a crisp and, next thing you know, you have an oven fire.

Keep things that can catch fire

 like potholders, oven mitts, wooden utensils, paper or plastic bags, food packaging, towels, or curtains away from the top of your stove.

Keep the stovetop, burners and oven clean.
Roll up your sleeves.

When you're cooking, wear short, close-fitting or tightly rolled sleeves. Loose sleeves can dangle onto burners and catch fire if they come in contact with a gas flame or electric element. 

Keep children and pets away from the cooking area

, making them stay at least three feet away from the stove.

Plug microwave ovens

and other cooking appliances directly into an outlet. You should never use an extension cord for a cooking appliance because it can overload the circuit and cause a fire.

Purchase a fire extinguisher.

You want to be prepared for the worst.
If You Have a Cooking Fire
Despite taking every precaution, sometimes the very thing you're trying to prevent happens. Don't panic. Take the below steps after you discover the fire and after it's out.
When You Discover the Fire
Just get out. 

If it's a pan on fire, often you can put those out with your fire extinguisher. However, if you have doubts, leave. And when you do, close the door behind you to help contain the fire. Call 911 or your local emergency number

after

you leave.

If you do try to fight the fire

, be sure others are already leaving and you have a clear path to the exit.

I

f a small grease fire starts in a pan

, smother the flames by carefully sliding the lid over the pan (make sure you are wearing an oven mitt). Then turn off the burner and do not move the pan. To keep the fire from restarting, keep the lid on the pan until the pan is completely cool.

If you have an oven fire

, turn off the oven and keep the door closed to prevent flames from burning you or your clothing. Call 911.

For a microwave oven fire

, turn the microwave off immediately and keep the door closed, and don't open it until the fire is completely out. Unplug it if you can safely reach the outlet.
After the Fire
If you had an appliance fire, it's important to have the microwave, stove, or oven checked out before you use it again. 
When you've had a fire:
Find a safe place to stay

. Even if there was a small fire in an oven, it's likely smoke has filled the kitchen and moved to other parts of the house. You have no idea what toxic chemicals have been released, so it's better to stay somewhere else.

Contact your insurance company

. You'll want to start a claim. And your policy might cover living expenses while cleanup and restoration are taking place.

Call a restoration contractor

. Make this call right away. They can take steps to protect your property from the elements if necessary and clean and repair your property to its original condition. It will give you peace of mind while you take care of other details.
Complete: Fire Restoration in Florida and Alabama
Complete
has over 75 years of combined experience in the restoration industry and is proud to employ quality professionals with the skills and proven track records to ensure satisfaction with our work. Our team is fully insured, licensed, and registered to do business in many states.
As a full-service fire damage company, we understand how structures and contents react to heat, smoke, and fire, and we take steps to minimize the damage. We specialize in cleaning and repairing properties with fire damage and work to protect and secure your property from further damage.
As smoke and fire damage restoration professionals, we eradicate smoke smells and neutralize odor, offering you the highest standard of fire damage service. We can help bring your property out of ruins to its original condition.
You can be confident in hiring Complete. We're:
With locations in Tallahassee and Pensacola, Florida, and Mobile, Alabama, we're ready to help you with any fire restoration needs. You can
contact us here
with any questions and call us in Florida at 850-CALL-DKI and in Alabama at 251-CALL-DKI.
24 Hour Emergency Service
Our emergency response teams are available 24 hours a day, 365 days a year using the most up-to-date technologies and is proud to employ quality professionals with superior skills and certifications. Our team is fully insured, licensed, and is registered to do business in the Pensacola, FL, Tallahassee, FL, and Mobile, AL areas.