Common Causes of House Fires
House fires are common. Too common, really. There is a good chance you know someone who has been affected by a house fire – big or small. Even a kitchen
fire
can cause extensive smoke damage throughout an entire home and take months to fix.According to
FEMA,
there are 1.24 million house fires in the U.S. in 2013. The good news is that is down more than 20 percent from a decade earlier. Those fires did about $11.5 billion dollars in damage.Here are the three leading causes of residential building fires in the U.S, and how experts say you can help prevent them from happening.
Cooking (50%)
According to the U.S. Fire Administration, 50 percent of house fires in 2014 were caused by cooking mishaps. With such crazy-busy lives, it is so easy to turn on the stove then walk away and forget all about it. The National Fire Prevention Association says 57 percent start on the range or cook top, and just 16 percent inside the oven. Looking at all the injuries caused by house fires in 2014, 37 percent of them were also cooking related.Please, when you are cooking, be alert and pay attention to what you are doing. If you have a grease fire,
do not
throw water on it. Instead, put a lid on top of it to smother the fire. Same goes for the oven – if something is on fire, turn the oven off and leave the door closed until the fire is out. Remember, oxygen feeds fire – so cutting off the oxygen source in a pan or the oven by closing it will help put the flames out faster.
Heating (12.5%)
Wood burning stoves seem to be becoming more popular as an alternative, and often less expensive, heating source. And everyone loves to have their fireplace going on a cold winter day. However, both can be hazards if they are not used correctly. Always make sure your chimney is clear, and never throw away ashes that are not completely cooled down. Also, just as you wouldn't leave a candle unattended, it is wise to keep an eye on your fireplace as well.Lastly on the heating front, space heaters. Be sure you are using one that is safe and updated. Be sure it is not placed near anything flammable, and also be sure you turn it off when you leave the room or even when you go to sleep.
Electrical Malfunctions (6.3%)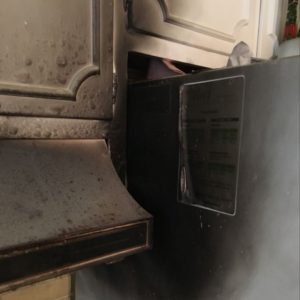 It is a little harder to prevent these than the other leading causes. However, try not to overload outlets with extension cords or appliances. Be sure to use surge protectors as much as possible. If your electrical system is out of date, it's not a bad idea to have an electrician come out and do a quick check of the wires and system as a whole for any issues.While we've talked about the top three, there are a number of other things that cause house fires. Nearly 6 percent result in carelessness; 2 percent result in someone smoking.
Complete
specializes in full fire damage restoration services. We understand how structures and items react to heat, smoke, and fire, and are committed to serving our customers well through good work, open communication, and exceeding expectations.
24 Hour Emergency Service
Our emergency response teams are available 24 hours a day, 365 days a year using the most up-to-date technologies and is proud to employ quality professionals with superior skills and certifications. Our team is fully insured, licensed, and is registered to do business in the Pensacola, FL, Tallahassee, FL, and Mobile, AL areas.