Community Associations Institute, North Gulf Coast Chapter Votes Luke Gerald As Vice President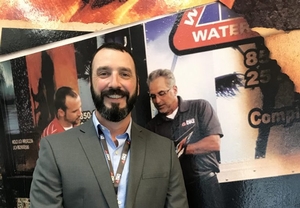 Recently, Luke Gerald was voted in as Vice President of the Community Associations Institute's North Gulf Coast Chapter. Having worked in the hospitality industry and as a Community Association Manager (CAM) himself as well as a Commercial Development Manager for Complete, Luke brings a unique skill set and knowledge base to the position which he hopes will make him an asset to the organization and its members.
What is the CAI?
The Community Associations Institute is an international organization "dedicated to building better communities' by providing resources and education to those who manage them. The North Gulf Coast Chapter serves Perdido Key, Destin, and Panama City Beach (with a goal to expand to Tallahassee). In addition to providing education in the form of credentialing programs and continuing education classes, the North Gulf Coast Chapter (NGCC) seeks to provide networking and relationship building opportunities for its members.
"It's basically a support group for association managers," Luke joked when asked about the purpose of the NGCC.
Community Association Management Experience
In his 3-year term as Vice President of the board, Luke hopes to use his experience both as a Community Association Manager and as a restoration industry professional to educate members while encouraging engagement.
"I was a Community Association Manager for 13 years. I was a CAM in Panama City, Destin, and in Perdido Key; each of those areas that CAI supports and works with. I know a lot of the vendors and the managers in those markets."
"When I first went to these meetings, it seemed to have a huge following. Over the years I've noticed the attendance would fluctuate. I think technology has a lot to do with that. A lot more people use social media to connect than they used to back in the good old days when we didn't even have e-mail on our phones. That's something that I want to try to bring back: the in-person networking. There are so many things that we can all learn from each other."
The Role of a Restoration Company in the Hospitality Industry
Having nearly 20 years of experience in the hospitality industry before joining Complete, Luke is knowledgeable about the unique needs of the industry, particularly in the Florida, Alabama, and Mississippi regions of the Gulf Coast.
"A lot of them know that they need a company like ours but that can be frustrating for them. Condo Associations especially are complicated to work with, it's a difficult process. We have to talk to the owners, the management company, and the rental companies. Whatever angry phone call that we may get at Complete, they've already got that phone call. They are under a lot of pressure."
In his new position on the board, Luke hopes do encourage in-person networking and mentor ship to decrease fatigue and burnout. He also plans to continue to benefit the hospitality industry more broadly with his role at Complete.
"As a CAM I worked with multiple restoration companies and there is a total difference between us and them. Our people are more responsive, they communicate with the owners which puts less stress on the CAM and makes their life easier. That's why I like my role now because I know what they're going through and I can ask questions or get with certain people to try and make it less stressful for them. Managers rarely get happy calls, it's always something bad. So our goal is to try to help them make the restoration as smooth as possible."
---
Congratulations, Luke! We look forward to seeing how you utilize your experience and skills to benefit the board and the organization's members.
To keep up with all our latest news, follow us on Facebook, LinkedIn, Twitter, Instagram, and Youtube!
24 Hour Emergency Service
Our emergency response teams are available 24 hours a day, 365 days a year using the most up-to-date technologies and is proud to employ quality professionals with superior skills and certifications. Our team is fully insured, licensed, and is registered to do business in the Pensacola, FL, Tallahassee, FL, and Mobile, AL areas.