Complete Donates Pet O2 Masks to Local Fire Departments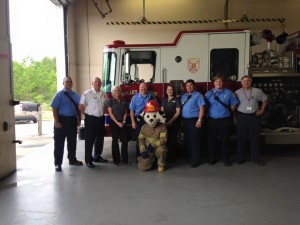 8 Pet Oxygen Mask Kits Were Donated to Santa Rosa County Fire Stations
Complete
had quite the
exciting
weekend!Pace Volunteer Fire Department, Milton Fire Department, Avalon Beach Mulat Fire Department, East Milton Volunteer Fire Department, Bagdad Volunteer Fire Department, Holley Navarre Fire Department, and Navarre Beach Fire Department.
Complete also donated a set of Pet oxygen masks to the Escambia County station on Pensacola Beach. 
The oxygen mask kit comes equipped with 3 different size masks in order to fit a variety of different size pets. The small is made to fit a puppy, kitten or any other animal with a fairly small snout. The medium is made for a cat or a dog up to 50 pounds. The large is made for your larger dogs such as a Boxer or a German Sheppard. The kit also comes with the tubing required to hook the mask directly up to an oxygen tank in the event of a fire. Did you know nearly a half a million pets perish in house fires each year? The need for these kits on every fire truck is great.
With each of these stations now having the ability to supply supplemental oxygen to pets who have been victims of smoke inhalation, our community can be more confident in the chances of our pets being revived after being pulled from a fire. 
WEAR TV, Pensacola News Journal (PNJ), and The Northwest Florida Daily News covered our story on Friday, July 3. To see what PNJ had to say about all of the excitement on Friday click here! 
24 Hour Emergency Service
Our emergency response teams are available 24 hours a day, 365 days a year using the most up-to-date technologies and is proud to employ quality professionals with superior skills and certifications. Our team is fully insured, licensed, and is registered to do business in the Pensacola, FL, Tallahassee, FL, and Mobile, AL areas.