DEEP FRIED DISASTER!!!!

I got a job! That is pretty self explanatory, however, telling friends and family about the company has not been easy. stands for Disaster Kleen-up International. That does not define
Complete
in any way though.  This being my second day, I feel like I might understand a quarter of what this company does for families, businesses, and the community here in Pensacola and vast surrounding areas.  Let's start with explaining what we (I'm one of them now!) mean by  "Disaster" and "Kleen-up".
These are the types of disasters I assumed we dealt with.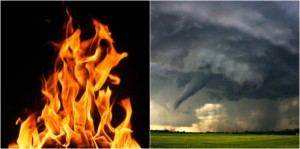 The exploding toilet, and mold (unfortunately not an urban legend) did not come to my mind, and I bet you've never thought about how much water comes out of the fire sprinklers!

Complete
provides a path to normalcy after falling victim to a disaster, natural or man-made. We have 24 hour emergency response teams, that are easily identified by uniform and vehicle.  We also offer free board ups for exposed interiors. Our "Kleen-up" provides restoration after fire, water, or mold by using the industries newest technology.  This includes mold remediation, water damage remediation, fire and smoke damage mediation, storm cleanup,  and and full construction services. Apparently not all fire and flood damaged belongings are total losses. I had no idea!  We have a warehouse full of technicians working on completely restoring various families' treasured belongings. I am, at this moment, watching a mammoth fireplace being rebuilt right outside of my office window.Today (day 4) Project Manager Charles Baker brought me to a work site. It was a kitchen fire resulting from improper deep frying. While Charles' team was at work removing damaged belongings to our warehouse for repair, I researched safety in frying food indoors.  Here are some tips:
DO IT OUTSIDE!! - This, to me, is the most obvious way to not kill yourself or burn your house down!  You'll have minimal spatter worries, and the dirty dog smell of your couch won't be replaced by Eau de French Fry.  The mess will be kept outside, which will be convenient when/if it all goes up in flames!
Know the SMOKE POINT of your oil - Every oil has a temperature at which they begin to smoke.  When oil smokes it is not only a stinky mess, scary words like toxic and free radicals are thrown out there as well!
"Nothing But Net!" is a terrible idea - Tossing your grub into the sizzling oil from across the room is a sure fire way (ha! See what I did there?!) to visit your local burn unit.  Be brave.  Get close.  You can do it.  Use a slotted spoon or a strainer if your arm chickens out.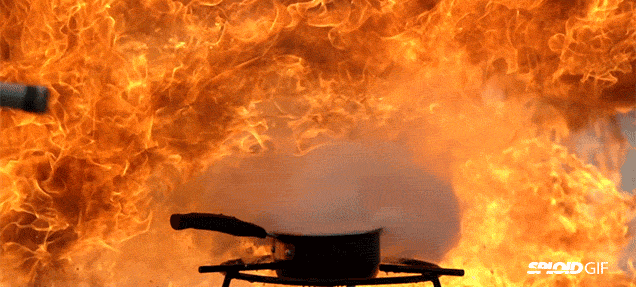 Closing out day 5, and they haven't fired me yet! I have learned a ton this week about
Complete
. We provide restoration services to residential, commercial, and insurance clients. The services we provide include
emergency response
,
construction services
, 
catastrophe response
,
contents restoration
,
environmental services
,
fire and smoke damage
, and
water damage repair
. Complete is licensed, insured, and registered to do business in Santa Rosa and Escambia counties in Florida as well as Mobile and Baldwin counties in Alabama. Check back for next week's adventures!
24 Hour Emergency Service
Our emergency response teams are available 24 hours a day, 365 days a year using the most up-to-date technologies and is proud to employ quality professionals with superior skills and certifications. Our team is fully insured, licensed, and is registered to do business in the Pensacola, FL, Tallahassee, FL, and Mobile, AL areas.