Employer of the Year 2019: Complete Named by Entrecon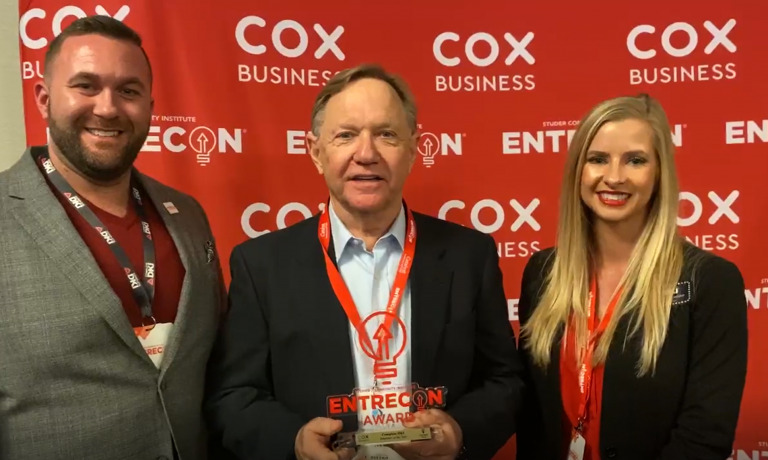 Complete, headquartered in Pensacola, FL with additional offices in Tallahassee, FL and Mobile, AL has been named Employer of the Year 2019 at Entrecon. Entrecon, an annual national symposium hosted by Studer Community Institute, fosters and provides resources for business leaders and entrepreneurs.
The award was presented at the Entrecon 2019 awards luncheon by Quint Studer to Shaun and Ashlee Carpentier, owners of Complete.
"Ashlee and I are very proud to have received this prestigious award", stated Shaun Carpentier. "Ashlee and I accepted the award on behalf of all of Complete's employees. Each member of our team is vital to fulfilling our Core Values of Excellence, Heart, Ownership, Professionalism and Teamwork. These are the standards by which we judge ourselves and it is a testament to the strength of the team embodying these values that they have been recognized by fellow business leaders and entrepreneurs."
Earlier this year Complete was also recognized by Inc. Magazine, winning a coveted place in the Inc. 5000 Fastest Growing Private Companies in America.
"Our goal was never to win national awards." said Mr. Carpentier. "Our goal was to serve the entire Gulf Coast with excellence; the awards are proof that our team is doing the right things and we as a company are growing the right way. We are never satisfied with yesterday's results, but it is nice to take a moment and enjoy the recognition our team at Complete has received in 2019."
Complete is the largest restoration company on the Gulf Coast. They provide restoration and remediation services to both residential and commercial properties.
To read more about Complete's inclusion on the Inc 5000 list, click here.
To read about Complete's Stevie Awards win, click here.
24 Hour Emergency Service
Our emergency response teams are available 24 hours a day, 365 days a year using the most up-to-date technologies and is proud to employ quality professionals with superior skills and certifications. Our team is fully insured, licensed, and is registered to do business in the Pensacola, FL, Tallahassee, FL, and Mobile, AL areas.