Finding a PROFESSIONAL Licensed Contractor

Most everyone knows that if they are having construction done that they should hire a licensed contractor.  To become a licensed contractor a state usually imposes specific requirements such as minimum education or work experience. The state may also require that the contractor prove knowledge through examinations.  A business license however is different from a contractors license.  A business license can be obtained with a couple hundred dollars and a visit to local clerk of court. Finding a licensed contractor isn't difficult, all licensed contractor advertisements—whether it be an ad in the phone book or newspaper, a flyer that shows up at your front door, or the company's name on the side of a truck— have the contractor's state license number. You can
check the license status online
or call  850.487.1395.Finding a PROFESSIONAL Licensed Contractor is the challenging part.  For most homeowners, the hardest part of any home renovation project isn't the work itself, it's finding a reliable contractor to do the job. Installing kitchen cabinets, knocking down a wall or retiling the bathroom is simple compared with the struggle of hiring a professional contractor who will perform at a high level from start to finish, or even just to show up in a timely manner.  There are so many stories about contractors starting a job and just never returning!Here are some tips for finding a reliable, professional licensed contractor:
Ask your insurance agent-  if work to be done is a result of a disaster (man made or natural) and will be claimed through insurance, contact your agent for licensed contractors.
Ask friends, relatives and co-workers for references. People you know who have done similar projects are your reliable sources.
Read online reviews -  Google, Angie's List, and the Better Business Bureau are reliable sources. Click here for Complete's Google reviews
Check their License!-  ask to see his/her pocket license, along with a picture I.D. Make sure the person you're dealing with is the same person on the license.
Verify the contractor's business location and telephone number- A contractor who operates a business from the back of a pickup truck with a cellphone may be difficult to find if a job needs to be fixed after final payment is made.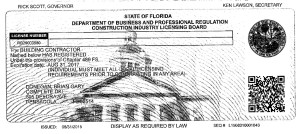 Let's be positive and assume that most licensed contractors are competent, honest, hardworking and financially responsible. However, many are not and problems could be prevented if homeowners knew their licensed contractor's work history. 
Complete
is licensed in Pensacola and Mobile.  Our teams provide property restoration services such as
mold remediation
,
water damage restoration
,
fire & smoke damage mediation
,
storm cleanup
,
emergency response
, and
construction services
, so we can be there whenever and wherever you need us. We offer state-of-the-art equipment, and rapid service. Complete  employs quality professionals with the skills and proven track records to ensure satisfaction with our work.  We continually update our skills through seminars, trade programs, mandatory schooling and industry affiliations. Complete utilizes available association, industry and government resources to provide and maintain state-of-the-art technical training and current information related to our trade. 
Contact us 
on our
7 days, 24 hour
emergency response line
: 1.850.225.5354.
24 Hour Emergency Service
Our emergency response teams are available 24 hours a day, 365 days a year using the most up-to-date technologies and is proud to employ quality professionals with superior skills and certifications. Our team is fully insured, licensed, and is registered to do business in the Pensacola, FL, Tallahassee, FL, and Mobile, AL areas.