Storm Damage Cleanup: The Right Restoration Contractor Makes All the Difference
You've done everything you were supposed to do to protect your home from storm damage. You brought in any outdoor furniture and boarded or shuttered windows. You even put on roof clips and added garage door braces.
But you still suffered some damage.
NASA
warns that hurricanes are about 60% more powerful than they were in the 1970s. With storms lasting longer, top wind speeds have increased by 25%. Even a strong thunderstorm can wreak havoc outside and inside of your home.
What this means is that despite every precaution, chances are you'll suffer some form of storm damage in the future. You'll need a trusted and reliable restoration contractor to make things right again after the storms are over. Often the costs of restoration are covered by insurance—if you have the right insurance.
The steps you should take after a severe storm include:
1. Look for Damage
Exterior Damage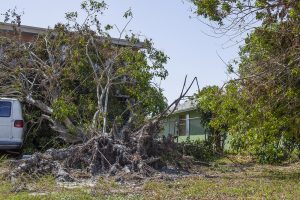 Damage from a storm is from wind and water. After the storm has cleared, look for these
common signs of damage
on the exterior of your home or
contact a restoration specialist
to make an inspection:
Missing shingles

Bruises or dented asphalt shingles

Cracked or broken tile, slate, or concrete shingles

Small pieces of rock in gutters or downspouts

Leaks in your roof or ceiling

Dents on vents, gutters or flashing

Shattered windows

Cracks and holes in windows

Broken window panes

Damaged window frames
Interior Damage
Interior damage is usually much easier to spot than external damage. You might see:
Water stains on walls.

Water stains on the ceiling.

Wet insulation in the attic.

Cracked skylights.

Wet floors or mushy, wet carpets.
Interior water damage can
cause mold
if not taken care of promptly.
2. Contact Your Insurance Company
After a storm has caused damage is the worst time to find out your insurance won't cover it. So make sure you have the correct coverage that will cover not only your losses but the
cleanup as well
.
Usually, wind, tornadoes, fallen trees and lightning strikes have a certain level of coverage as part of a standard policy, but check your coverage amount and deductibles before disaster strikes—sometimes insurance companies stop issuing or updating policies because of an impending major storm like a hurricane. During a moratorium, you can't switch insurance companies, buy a policy, or change coverage to your existing policy.
Keep in mind too that
19 states have hurricane deductibles
.
You might need to add:
Flood insurance.

Flooding caused by precipitation (rain) is not usually covered by homeowner's insurance. You need flood insurance, a separate policy provided by

insurers who participate

in the National Flood Insurance Program. Without it, the Federal Emergency Management Agency estimates that just one inch of water inside your home can cost more than $27,000.

Water backup coverage.

Your basement could be damaged by a sewer or sump pump backup, and if you only have a standard homeowner's policy, you'll have to pay for 100% of the repairs. To clear that basement full of sewage, you'll need an optional add-on to your policy called

water backup coverage

.
3. Choose the Correct Cleanup Contractor
A cleanup contractor will inspect your property, clean up, sanitize the property and repair damage. They'll examine the structure of your home to ensure that it has maintained its integrity and is safe. They also provide water extraction and drying in the case of a flood.
A reliable cleanup contractor can be hard to find, and there are plenty of companies that exist just to rip off suffering homeowners. Here are some
tips to avoid
these unscrupulous contractors:
Avoid fly-by-night companies.

Companies or contractors that just arrived in town from another state may not stay to finish the job. And don't ever hire a contractor who just happens to knock on your door. Choose

local companies with good reputations

.

Check them out.

Contact the

Better Business Bureau

to look for complaints. Ask the company for local references.

Be sure the company is insured.

Don't just take a business's word for it that they are insured. Contact the insurer directly and ask it to send you a copy of the company's certificate of insurance.

Get it all in writing.

Before work begins, make sure you get a written contract that lists all the work to be performed, its costs and an estimated completion date. Read the contract and make sure it includes any verbal promises you may have received from the contractor.
Complete: Your Cleanup Contractor in Florida and Alabama
Complete
is the largest disaster restoration company on the Gulf Coast.
We've mitigated damages for hundreds of homes and buildings after storms, helped thousands of companies reopen, and enabled employees to return to work so that tens of thousands of customers in our community can obtain the goods and services they need.
And, of course, we're following the latest guidance issued from professional organizations regarding the upcoming hurricane season.
You can be confident in hiring Complete. We're:
With locations in Tallahassee and Pensacola, Fla., and Mobile, Ala., we're ready to help you clean up any storm damage during this active hurricane season. You can
contact us here
with any questions, and in case of emergency, call us in Florida at (850) CALL-DKI and in Alabama at (251) CALL-DKI. 
24 Hour Emergency Service
Our emergency response teams are available 24 hours a day, 365 days a year using the most up-to-date technologies and is proud to employ quality professionals with superior skills and certifications. Our team is fully insured, licensed, and is registered to do business in the Pensacola, FL, Tallahassee, FL, and Mobile, AL areas.