Do's and Don'ts of Home Fire Damage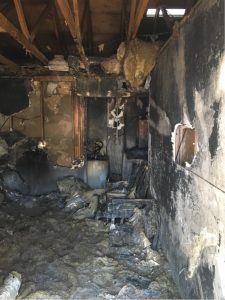 When it comes to
fire damage repair
there are a lot of things you should do. However, there are also many things you shouldn't do. Below are some of the common do's and don'ts of fire damage repair. The most important thing to do is call a professional restoration contractor as soon as possible. In the Mobile, Alabama area,
Complete
is one such company that can help you repair and restore your home after a fire.
Do- Be Safe and On the Lookout for Structural Damage
Your number one and most important priority should be your safety. After a fire occurs in your home, you should avoid entering the property until a professional has had the opportunity to inspect it for damage and safety. Fire and the heat from a fire can cause significant structural damage to your home. Oftentimes, this damage is not noticeable to someone simply walking around and looking. If structural damage has happened, the home could easily collapse at any moment. Keep yourself and others safe and do not enter the property until it has been assessed and cleared for safety.
Do- Avoid Inhaling Soot and Smoke
Another dangerous element in entering a
fire-damaged home
. Soot particles contain all kinds of toxic chemicals and can be extremely hazardous to your health. Dust masks and other preventative equipment should be used when entering any fire-damaged property. Smoke and soot inhalation is dangerous and can cause long-term damage to your body.
Do- Make an Inventory of All Your Damaged Possessions
Taking this extra step will save you a lot of time and hassle with your insurance company and you'll be glad that you took the time to do it. Fortunately, it's a very simple process. All you have to do to inventory your valuable possessions is make a list of the items that were damaged, the extent of the damages, and those that were not damaged.
Don't- Throw Away Anything in Haste
A big mistake a lot of people make is prematurely throwing away items that were damaged by a fire. Don't throw anything away until you call a
professional restoration contractor
to take a look at your home. State of the art restoration techniques used at Complete surprise many people. Oftentimes items might seem as if they are beyond repair when the reality is that they can easily be restored. Don't throw something away if you don't know.
Don't- Hesitate to Call a Professional Restoration Contractor
Of all the mistakes people commonly make concerning fire damage restoration, this is one of the worst. The process of fire damage restoration is very involved and not very many people have the equipment or know how to do it the right way. They are also not trained to in safety concerns and do not know what to look for and how to keep themselves out of danger. Breathing in
soot and smoke
can be a serious issue along with unseen structural damage as mentioned above. If you decide to do it on your own, that is your prerogative, but just understand that you must have the right equipment, experience, and enough time to do it right.
Complete
in Mobile is here for you for all your fire damage restoration concerns.
24 Hour Emergency Service
Our emergency response teams are available 24 hours a day, 365 days a year using the most up-to-date technologies and is proud to employ quality professionals with superior skills and certifications. Our team is fully insured, licensed, and is registered to do business in the Pensacola, FL, Tallahassee, FL, and Mobile, AL areas.