Fire Damage in Pensacola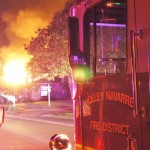 All too often, Pensacola residents hear about fire damage in Pensacola on the news. A house fire can be one of the most devastating  things that can ever happen to a homeowner in their whole lifetime. Did you know that fire damage in Pensacola is one of the most popular reasons for emergency responders being called out? Fire damage in Pensacola can happen to anyone, anytime, anywhere. So what do you do if you suffer from a fire damage?
Call Complete! Complete is a 24 hour emergency contractor with crews on call after hours in order to promptly respond to your emergency. Our team prides itself on mobilizing and arriving to the emergency scene within an hour of your call to us. Here at Complete, we know that fire damage in Pensacola can be stressful and we do everything to make your path back to normalcy a smooth one. We offer assistance to those who may have suffered from a fire accident due to vandalism, arson, cooking fires, electrical issues, lightening and so much more!
Many times, people think "Oh that'll never happen to me!" and just when they do think so, it does. As a homeowner we want you to be aware of the possibilities. Should you ever be in need of our emergency services, our team of skilled and professional technicians are just a phone call away. You can bet they will always be in uniform and clearly marked Complete vehicles. Let's face it, we all know that at 3 o'clock in the morning, you don't want to be letting some scraggly old "Joe" coming in to your home!
If you are in need of emergency assistance due to fire damage in Pensacola, give Complete a call at 850.225.5354.
24 Hour Emergency Service
Our emergency response teams are available 24 hours a day, 365 days a year using the most up-to-date technologies and is proud to employ quality professionals with superior skills and certifications. Our team is fully insured, licensed, and is registered to do business in the Pensacola, FL, Tallahassee, FL, and Mobile, AL areas.