4th of July: BBQ Safety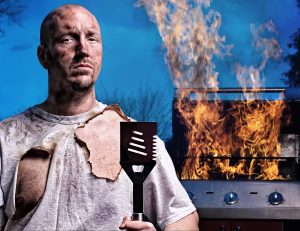 Summer is here, everyone's back on the beaches, and July 4
th
is fast approaching. Most people are gearing up for family fun, outdoor adventures, fireworks, and big cookouts. We want to share some BBQ safety tips to ensure you have a fun and relaxing day with your friends and family without a
fire emergency
.
Some great tips for grilling/keeping your grill ready to go:
- Keep your grill at least 10 feet away from your house, or even further if you've got the room. Whether you have a charcoal or gas grill, this distance includes overhangs – especially wooden ones. If something were to go wrong for just a second, you could be looking at a fire emergency.- Clean your grill regularly! Grease fires are not something anyone wants to deal with and allowing it to build up increases your risk of fire.- Check for gas leaks. This is extremely important and can be done by making a 50/50 solution of dish soap and water, rubbing it on hoses and connections, and then turning the gas on (with the grill top off). If you see large soap bubbles, that's a sign of leaks or loose connections.- Keep the décor away from the grill. Celebrations make us feel festive and decorating is good family fun, just be sure to leave the flammable decorations far from the grill.- Keep a spray bottle of water and a fire extinguisher near the grill. The spray bottles can be used to quickly put out minor flare-ups and won't ruin your food. For the bigger fire, be sure you know how to use your fire extinguisher – if you don't and something happens, do NOT hesitate to call
911
. (Remember, PASS – Pull, Aim, Squeeze, Sweep!)
Important Reminders:
- DON'T turn on the gas while the grill lid is still on the grill/closed- DON'T leave a grill unattended- DON'T overload your grill with food – especially fatty food- DON'T use a grill indoors – not only is it a fire hazard, but carbon monoxide is released in close quarters and has nowhere to goFor some great safety tips on fireworks, check out the newest addition to our
Infographics page
(under Blogs). Remember, we want you and your family to have a fun-filled, too much food, relax with fireworks 4
th
of July – which means plenty of fire safety! If you do experience a
fire emergenc
y,
we are always here
and ready whether you're celebrating in Fort Walton Beach, Destin, or Panama City.
24 Hour Emergency Service
Our emergency response teams are available 24 hours a day, 365 days a year using the most up-to-date technologies and is proud to employ quality professionals with superior skills and certifications. Our team is fully insured, licensed, and is registered to do business in the Pensacola, FL, Tallahassee, FL, and Mobile, AL areas.