Fire Safety Tips for this Thanksgiving!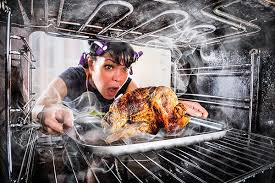 Thanksgiving
is one of America's
favorite
holidays for obvious reasons...
food.
The delicious turkey, mash potatoes and gravy, green bean casserole; oh I could go on forever. While this is such a fun time of the year, we have to be extra careful when it comes to kitchen fires. 
Fire Safety
 in the kitchen is
always
important, especially during any big holiday such as
Thanksgiving
when there is a lot more activity going on than normal.
Did you know
that
cooking is one of the leading causes for home fires and home injuries?
Thanksgiving 
is one of the most
common
days for home cooking fires. Frying the turkey and other foods is the
greatest
risk for this! Complete has some tips for you and your family on how to have a
safe
and
fire
-
free
Thanksgiving
this year!
Try to keep children out of the kitchen while the meal is being prepared. We all know that sometimes our kids can get carried away and maybe even knock something over into an open flame. This could result in burns to themselves and others.
Don't forget to turn off the burners that you are finished using. With so much activity going on, we can forget to do this very easily. Try using a timer as a reminder when a dish is done.
Try to make sure that pot handles on the stove top, are faced towards the middle of the stove at all times.
Never leave the kitchen unattended while frying, broiling or grilling food. Turn off the stove if you have to leave the room for any reason at all.
Make sure to keep any fabric (kitchen towels, clothing or pot holders) away from an open flame. Try not to wear any loose clothing while cooking in the kitchen.
Thanksgiving
is such a
fun
holiday where we are surrounded by family and good food. You may not have a
house fire
on your mind, but we all need to be
aware
that they are
very
common. Your cousin Susan, who you haven't seen in
years,
could walk through the door and as soon as you hear her voice greeting you and the family, you'll
run
over to her with excitement to give her a warm welcome. By this time you have completely
forgotten
the fact that you have a turkey frying, potatoes over boiling and the casserole broiling in the oven. All of the sudden your fabulous
Thanksgiving
dinner has gone up in
flames
as well as your newly remodeled kitchen! Please be
extremely
cautious and aware of your surroundings while cooking this year so you can avoid having this
tragedy
happen in your home.
Complete
DKI
wishes each and every one of you a
SAFE
and
HAPPY
Thanksgiving!
---
24 Hour Emergency Service
Our emergency response teams are available 24 hours a day, 365 days a year using the most up-to-date technologies and is proud to employ quality professionals with superior skills and certifications. Our team is fully insured, licensed, and is registered to do business in the Pensacola, FL, Tallahassee, FL, and Mobile, AL areas.