Hidden Water Damage & Long Term Effects
The
2018 hurricane season
has been an unusually quiet one, but there's still time for more storms to head our way.
Tropical Storm Gordon
caught us in the peak of the season, and there are still more storms brewing. When
heavy storms
hit us, we tend to look for the obvious signs of water – puddles from mysterious leaks, drips from the ceiling, or flooding from rising waters. Once those are checked out, we tend to move on with our lives. While that may seem like enough, it's so important to check for signs of hidden leaks.
Signs of possible hidden leaks:
Mold / Mildew
Damaged Paint / Wallpaper
Stain Pools on Walls / Ceilings
Damaged Walls (warping, cracks, discolored)
Musty Smells
Warped Door Frames / Door Alignment
Condensation
Damaged Flooring
There are also things to check and be mindful of on the exterior of your home regarding storm and
water damage
, as well as other weather related damage. Be sure to look for:
Lifted, stressed, or cracked shingles
Cracks, splits, and chips in siding, stucco, paint, or wood
Debris-driven dings and dents on roofing, siding, windows, and doors
Soggy / swollen wood
Leaks around windows
Remember, once water enters your home, the clock starts and the damage to your home increases greatly, and very quickly. Below you'll see how water in your home causes damage in minutes, hours, days, and weeks. If you even suspect water damage or leaks in your home,
call us immediately
to start assisting you. It'll save you and your family time, frustration, money, and your home. Whether you're in Destin, Panama City, or Fort Walton Beach, we're there for you.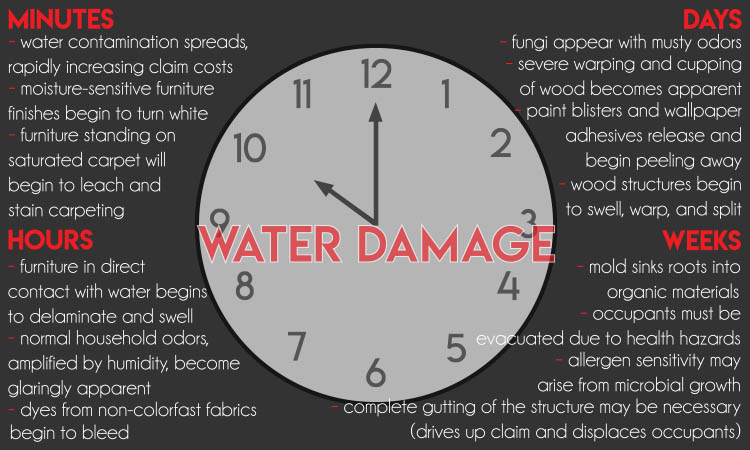 24 Hour Emergency Service
Our emergency response teams are available 24 hours a day, 365 days a year using the most up-to-date technologies and is proud to employ quality professionals with superior skills and certifications. Our team is fully insured, licensed, and is registered to do business in the Pensacola, FL, Tallahassee, FL, and Mobile, AL areas.