House Fires: Prevention, Protection and Restoration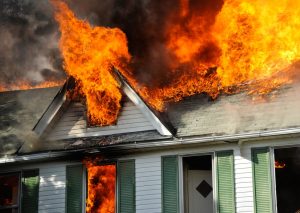 According to the
National Fire Prevention Association
, a home fire occurs every 93 seconds. This makes fires one of the most common causes of house damage. House fires are generally covered in most homeowner's insurance policies. While the thought of dealing with a house fire may be scary, it's important to be prepared for the possibility. From how to prevent a fire in the first place to how to deal with the aftermath, this guide has you covered.
Prevention
In 2018, the United States lost $25.6 billion due to fire damages, according to the
U.S. Fire Administration
. Residential fires make up 30% of all fires and are caused by cooking more than half the time. In order to avoid ending up like one of these statistics,
take these precautions
:
Monitor your smoke alarms - there should be one on every level of your home, inside and outside of sleeping areas. These alarms should be less than 10 years old and tested monthly, with batteries replaced as needed.

Keep an eye on the kitchen - cooking is the leading cause of house fires, so it is essential that the kitchen be clear of any items that can burn in order to avoid a fire. There also should always be a person in the kitchen whenever frying, boiling, grilling or broiling food. Make sure that pot handles are turned away from the edge of the stove.

Be careful with candles - make sure candles are lit in sturdy, fire-proof containers and kept out of reach of children or pets. An adult should also extinguish all candles before leaving a room or going to sleep.

Check your electronics and appliances - make sure cords are in good condition and have not been exposed or cut. Plug outlets should be safe and not warm to the touch. Pay extra attention to removing lint from the dryer.

Don't forget about carbon monoxide alarms - these should be less than 7 years old and have one on every level of your home.

Have an escape plan - should a fire occur even after implementing the above precautions, you should have an escape plan your entire family knows and practices twice a year. This plan should include two ways out of every room and a safe meeting place outside of the home.
Protection
Even if you've done all you can to protect yourself and your home, accidents still happen.
This is where homeowner's insurance comes in
. Most standard plans cover the cost of house fire damages. It also usually covers your personal belongings and any expenses for lodging and meals above and beyond your normal living expenses, up to your policy's limits. Fires caused by war and nuclear radiation are generally not covered, however, and neither are fires set intentionally by the homeowner. Additionally, fire damage to a vacant home is also not covered if the home was vacant for more than 30 consecutive days at the time of the fire.
If your house fire damage falls under what your insurance will cover,
you'll want to take these steps
:
Document all losses. Take pictures of all damages, make a list of items lost and try to find receipts for anything you can.

Show the adjuster the damage. After verifying the adjuster's identity, make sure this person gets a complete view of everything that was lost or damaged. Be sure to document all interactions with your adjuster and insurance company. It's important to keep copies of any documents you've handed over.

Verify what is covered by your policy. Typically, this will include damage caused by fire, smoke and firefighters (who may have damaged things while trying to extinguish the fire). Policies also usually cover additional living expenses, like clothing or hotel bills, if you've lost use of your home. Be sure to also discuss any exclusions or limits in your policy.

Contact a restoration company. If your home can be repaired, be sure to call in a professional fire and water damage restoration team to handle the restoration.

Smoke residue

and other fire damages can be harmful to your health, do not try to handle this on your own.
Fire Damage Restoration
Even if there is structural damage, your home may still be repairable. Find a reputable professional restoration company and work with your insurance to get your home restored. These professionals understand how structures and contents react to heat, smoke and fire. They know what steps are needed to minimize the damage for property owners. They have the equipment to thoroughly clean the home's contents and structure to eliminate the smoke odor.
If you're located in Florida or Alabama,
reach out to Complete
for your restoration needs. Our full-service fire damage company specializes in cleaning and repairing properties that have suffered fire damage. We'll work toward protecting and securing your property from further damage. We are experts understand every fire is unique and poses unique challenges when it comes to restoration. Complete is your one-stop-shop for all fire damage services and can help bring your property out of ruins to its original condition.
Complete is a leading restoration contractor with offices in the Pensacola, Fla., Tallahassee, Fla., and Mobile, Ala., areas.
24 Hour Emergency Service
Our emergency response teams are available 24 hours a day, 365 days a year using the most up-to-date technologies and is proud to employ quality professionals with superior skills and certifications. Our team is fully insured, licensed, and is registered to do business in the Pensacola, FL, Tallahassee, FL, and Mobile, AL areas.