Read This Before You Buy An Air Scrubber or Purifier
As the weather gets colder and skies turn gray, we're all spending more time indoors. We hear a lot about outdoor pollution, but what about indoor pollution? You might be surprised to know that, according to the Environmental Protection Agency (EPA), 
indoor pollution
has levels of certain pollutants that are up to five times that of outdoor air.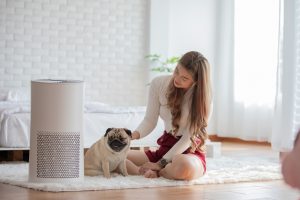 Where does all this indoor pollution come from and what can you do about it? Air purifiers and air scrubbers clean your indoor air. Before you run out and purchase one or the other, there are things you should know, including when to call in an expert.
Sources of Indoor Air Pollution
"But my house is really clean," you might cry. A clean house doesn't mean it's free from pollutants. You have control of some polluting substances, but not all. So, what are the causes of indoor air pollution, per the EPA?
Combustion sources.

These can release harmful byproducts like carbon monoxide and particulate matter. The sources include:

Tobacco

Wood and coal heating and cooking appliances

Fireplaces
Commonly used home products.

These can release many different chemicals, including volatile organic compounds. Sources of this type of pollution include:

Cleaning supplies

Paints, varnishes, caulk, etc. 

Insecticides 

Air fresheners
Common chemicals released by these items include: benzene, ethylene glycol, formaldehyde, methylene chloride, tetrachloroethylene, toluene, xylene, and 1,3-butadiene.
Building materials.

Pollutants are released via degrading materials (e.g., asbestos fibers released from building insulation) or by new materials (e.g., chemical off-gassing from pressed wood products). 

Natural substances.

These include things like radon, mold, and pet dander.
Many of these pollutants come from things that we use daily. So how can air scrubbers and air purifiers help?
Air Scrubbers
You might not be familiar with air scrubbers, because they usually are used for industrial applications But, they're available for your home and they can be portable, or an HVAC contractor can install a whole-home air scrubber that works with your current air conditioning and heating system. 
Whole House Air Scrubber
An
air scrubber attaches
directly to the ductwork of your HVAC system. It removes air pollution, VOCs, surface contaminants, pet dander, odors and dust to provide a cleaner, healthier and more efficient home. Air scrubbers use proprietary light waves along with a specialized catalytic process to keep your home cleaner.
And it doesn't produce ozone, which is considered a pollutant. What is ozone? The EPA says that breathing ozone can cause a variety of health problems that include chest pain, coughing, throat irritation, and airway inflammation. Ozone also can reduce lung function and harm lung tissue, worsen bronchitis, emphysema, and asthma.
The disadvantage? A whole house system only works if the heater or air conditioner is actually running. If no air is running through the system, the scrubber is not working. This being said, many have found relief from allergies and other problems even though it's not continuously running.
Portable Air Scrubber
Portable scrubbers are mostly used for industrial applications and extremely large areas, like a warehouse or commercial buildings, but you can buy smaller units made for household use.
A
portable air scrubber
can be placed in any room where you know or suspect you have poor air quality. Air scrubbers use filters to help remove contaminants as the air is circulated through the unit. Several times every hour, the scrubber draws in the air contained and expels the same air, now free from some impurities.
These portable scrubbers feature high-RPM motors, high-efficiency blowers, and an upright cabinet design. While each air scrubber unit is different, all units follow a similar process with multiple filters that remove 99.97% of airborne particles. If a HEPA filter is used in the unit, it is able to filter a considerable amount more than a regular filter. The HEPA filter will capture small particles such as mold, bacteria, asbestos, lead, dust and many other airborne contaminants.
These portable scrubbers do a great job, but can be a bit noisy, and if you want to clean the air in your entire house, you'll need one for each room
Air Purifiers
Like air scrubbers, a contractor can install a whole-house system, but portable units are plentiful.
Most portable air purifiers on the market will do the job, but here are some things you should consider:
Where will you put the air purifier?

You'll need to choose the right size for the space.

If you have specific health or home needs

– like removing pet dander or cigarette smoke – look for an air purifier that's good at filtering out those specific pollutants. 

Compare Clean Air Delivery Rate (CADR) ratings

, which show how well an air purifier filters specific pollutants.

Choose one with a HEPA filter

, which is the gold standard for indoor air purifiers.

Pay attention to noise levels

in product specs. Depending on where you're using it, you might want a quieter unit.
How to Choose the Right Air Purifier for Your Room Size
Before you buy an air purifier, you need to figure out how much space you want the device to clean. Small desktop units aren't effective in large living spaces, and larger, heavy-duty air purifiers may be more than you need in your bedroom. 
You can find the best fit two ways:
Look at "air changes per hour."

This figure may be included in your air purifier's specs, and if it's not, contact the manufacturer. This metric can help you understand how filtration works in real life, because a smaller air purifier could turn over the air in a 350-square-foot room eight times in an hour but manage just four air changes per hour in a 700-square-foot room.

Compare CADR. According to the Association of Home Appliance Manufacturers, take the CADR rating and multiply this by 1.55 to get the room size that fits the unit. This is based on a ceiling height of 8 ft.
To do it another way, you would then divide your room square footage by 1.55. As an example, if your room is 250 sq ft.  Divide this by 1.55 and you get 161.  This means you will want a room air cleaner with a CADR of 160 or higher.
If you're not sure how much space you need to clean, it's better to get a larger air purifier than what you think you'll need, as long as it's within your budget.
When to Call in Experts
Air scrubbers and air purifiers are great ways to clean the indoor air pollution in your home, but if you have a fire, flood or other event that causes the release of pollutants or encourages mold growth, it's time to call in the professionals.
Complete: Your Complete Restoration Contractor
Complete
has over 75 years of combined experience in the restoration industry and is proud to employ quality professionals with the skills and proven track records to ensure satisfaction with our work. Our team is fully insured, licensed, and registered to do business in several states.
We specialize in cleaning and repairing properties with many types of damage, whether from wind, fire or water, and work to protect and secure your property from further damage.
And, as smoke and fire damage restoration professionals, we eradicate smoke smells and neutralize odor, offering you the highest standard of fire damage service. We can help bring your property out of ruins to its original condition.
You can be confident in hiring Complete. We're:
With locations in Tallahassee and Pensacola, Florida, and Mobile, Alabama, we're ready to help you with any fire restoration needs. You can
contact us here
with any questions and call us in Florida at 850-225-5354 and in Alabama at 251-225-5354. 
24 Hour Emergency Service
Our emergency response teams are available 24 hours a day, 365 days a year using the most up-to-date technologies and is proud to employ quality professionals with superior skills and certifications. Our team is fully insured, licensed, and is registered to do business in the Pensacola, FL, Tallahassee, FL, and Mobile, AL areas.