Introducing our Women in Restoration Series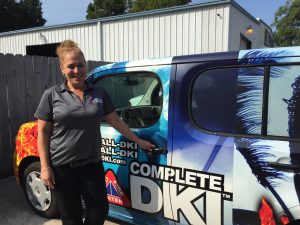 Up until a few years ago women in the restoration and reconstruction industry were a rare sight. In the United States when most hear the word "construction" they think of an industry that is predominately male. Complete is proud to be dismantling stereotypes with a team that includes many strong and successful women. Complete believes firmly in finding and hiring the most talented people possible regardless of their gender, race or creed.Today we begin a new series which highlights the stories and experiences of our female staff members that work in an industry that is typically male-dominated. While each woman's story that we will highlight is different, together they form an integral part of the Complete team and we are very excited to introduce them to you.To kick off our series, we sat down with Kristin Ruschel, an Assistant Project Manager working in Complete's Reconstruction Division. Kristin has seven years of experience in the industry and she shared with us some of her insights and experiences and how she made the transition from an administrator behind a desk to working in the field.
Why did you choose to go into restoration?
It was not a why, it was a how. I actually started in an administration position as a project coordinator at another restoration company. I just was always on the back side of it, on the computer, talking to the insurance companies, the same thing you see our project coordinator do here at Complete.  I was always sitting at a desk and on the computer.  And I asked one of my project managers one day if I could do a ride along and I learned both sides of the process. And then, when our franchise closed, I came here. I said that I didn't want to be behind a desk anymore, that I had been in the field for too long. I have two degrees, one in business management and one in accounting, nothing to do with restoration at all, I kind of just fell into it.
Do you think having the administration background helped you make the transition?
Absolutely. That's why, when I came to Complete, I was able to understand the back-side of the work we do. I already knew the emergency response side, the mitigation side, the reconstruction side. I knew the commercial side and how to use all of our technology as well. The position was actually created for me specifically because of the knowledge I had coming in.
Do you feel you've encountered a glass ceiling at any point in your career in  this field? How did you handle/conquer that?
Every day I have to prove my worth because I work in a man's position. Many sub-contractors we work with have all males working there and of course many clients expect a male to be handling their loss. I respect the males in their position and they need to respect me in mine. I've never had it where I had to
fight
as a woman, I just have seen that a lot of men don't want to take instructions from a woman. I just tell them "I know you know a lot that I don't, I'm here to learn just like you are but respect me as I respect you." I've never had one I had to go to gloves with. It's easier being upfront with them. They respect me as a boss. I don't make them feel any less of a person, I'm here to help and we're here as a team.
What difficulties do you face in an industry that's male dominated?
As I said before some sub-contractors can be difficult because I am a woman. I've had to make several phone calls to make things happen, I don't always get return phone calls. But if I ask Todd to call, they'll return his phone call. I just play that as it goes. If I need Todd to make a phone call to make it happen, I'll do it. Once they realize that I'll still get to them somehow, a lot of them open up. Once they get to know me, they realize I'm not trying to be "that person." I'm just a team player and we need to get the job done.  A lot of them are not used to it. In the field, I have encountered women, but not very many. In our industry it's rare.
What's the best part of your career?
Making people happy. Seeing our customers go through the most catastrophic stuff and putting it back together and seeing their faces. I treat our customers how I want to be treated because any day, at any time, this could be me. This could be my house. I've had some blood sweat and tears on a few jobs just to make it happen. It's knowing that, at the end of the day, an appreciation and a "thank you" goes a lot farther than any bonus or money that I could get. There's a lot of customers that you become friends with, you care about them. You would want someone to do it for you. Just because we work in this industry, doesn't mean it doesn't happen to us too. We could go home today and our house could burn down, a flood could happen, a tornado could take it, anything.
Do you think that being a woman helps you access that caring side?
Everybody who works here cares but I think as a woman you have a bit more of a nurturing touch. I have more of a soft heart where the guys can be more "get it done." It's a balance.
How are you changing the industry/dismantling stereotypes?
Any woman can do what anybody else can do. Let's be honest, I didn't know anything about construction when I first started. I don't know everything, I'm not afraid to ask a question. I've pretty much shown in what I've done that anybody can do it. Just ask questions and follow along. Everyone is learning every day so it's not "oh, the men know everything." We encounter problems all the time. I've gone from doing small warranty work to "oh, I just put a 5,000 square foot home together." It doesn't matter if you're male or female, everyone can do it. I do try to show others, including my daughter what we can do. It's not a stereotype, it's not a man's world. I'm not afraid to step into a man's world. As long as I'm upfront, there's no issues.
You mentioned your daughter, what do you fee l you are teaching her by working in this industry?
She knows what I do. She knows when I leave in the morning and tell her I'm going to Panama City, that I'm going because of the storm. She knew when we were working crazy hours when Hurricane Michael hit that I was working to help people. A couple of weeks ago I took her to Tallahassee and showed her what the interstate still looks like, how the rest area was gone and people lost their houses. I've taken her by some of my jobs and explained, not just what I do for a living, but to understand the catastrophic part of "there's a hurricane coming." She has an understanding when I work late, I'm helping other people and to be thankful for what
we
have. I'm a single mom so I try to teach her that.
Is there anything in your story/career that you want to share or anyone who made an impact?
My first boss, he started off as my mentor. He hired me to sit behind a desk and coordinate work, but as I asked questions and try to better understand he was very open and allowed me to go out in the field. Every time I would ask a question I would say "I'm sorry, I don't mean to sound stupid" and he would say "no question is stupid if you don't know, you have to ask to find out." So he would always pave the way. Because of him, starting in an admin position with him and moving into a project manager position, when his business closed, I was able to continue on and go to another restoration company. Otherwise I'd have to go right back behind a desk because that was all I knew.I learn something every day, my six-year-old teaches me things I don't know, I'm always learning. I don't talk down to people, I don't want anyone feeling bad if they don't know something. Before I became a PM, I would sit and read a construction book and it was the most boring thing ever, but I was trying to get an understanding. I just learned along the way.
24 Hour Emergency Service
Our emergency response teams are available 24 hours a day, 365 days a year using the most up-to-date technologies and is proud to employ quality professionals with superior skills and certifications. Our team is fully insured, licensed, and is registered to do business in the Pensacola, FL, Tallahassee, FL, and Mobile, AL areas.