It's Time to Winterize Your Home!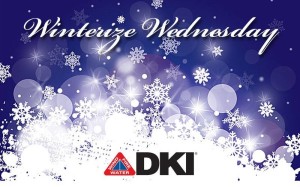 When
preparing for winter
, your home
requires
maintenance in order to keep it in tip top shape! Thus the term "winterizing" your home was born. In the winter months, homeowners seem to notice their power bills skyrocketing. Some of this is due to the use of the heater, but most of it is due to homeowners not properly winterizing their home!
Complete
has some tips on how you can winterize your home for winter!Winterizing your home is more properly defined as
"adapting or preparing your home for use in cold weather".
Doing so will help to minimize excess use of energy and in return, reduce your energy bill! Well, how the heck do you even start to "winterize" your home? Easy! Follow
these 6 simple tips
!
Clean your gutters! Although it is rare to have a hard freeze in our area, cleaning your gutters allows the water to flow freely which will reduce the risk of icicles forming.
Flush your water heater! Doing so will ensure your water heater stays functioning at 100%.
Change your fan so that it rotates clockwise. (This one gets forgot about very often!) Turning your fan so that it rotates clockwise will push the hot air down. The result, making your house warmer!
Replace your air filters. Replacing the filters in your AC unit will allow for the air to flow more freely. Your unit doesn't have to work as hard to push the air through a clean filter like it would if the filter were dirty.
Invest in draft guards ! These can cost anywhere from $10 & up. If you don't want to shell out the money for those, a rolled up towel works just as well.
Invest in a programmable thermostat. Using a programmable thermostat, you can program what temperature you want it to be in your house at a certain time of day. Have one of these is a big game changer when it comes to the price of your power bill.
Complete
is here to serve the Pensacola community. We respond to
all types of damages
in homes and businesses all throughout the year. Our staff and technicians work around the clock, are always in uniform, and
clearly
marked company vehicles.  Let's face it, in your time of need you don't want to have to dictate whether or not the person knocking on your door to help can be trusted in your home. If you are experiencing some type of damage in your home or business, give Complete a call 24/7 at
850.CALL.DKI
.
24 Hour Emergency Service
Our emergency response teams are available 24 hours a day, 365 days a year using the most up-to-date technologies and is proud to employ quality professionals with superior skills and certifications. Our team is fully insured, licensed, and is registered to do business in the Pensacola, FL, Tallahassee, FL, and Mobile, AL areas.