Complete Donates 450 N-95 Masks to Area Hospitals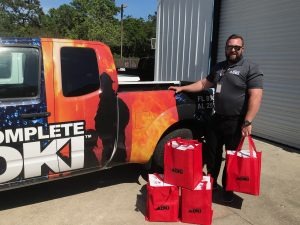 On Thursday April 2, 2020, Complete donated a total of 450 N-95 masks to hospitals in Pensacola, FL, and Mobile, AL.  Ascension Sacred Heart Hospital, Baptist Hospital, and USA Women's and Children's Hospital received the donations.
Shaun Carpentier, President and Owner of Complete, when asked why Complete donated 450 masks, responded:"The majority of our Mission Statement revolves around two key concepts. The first, to be an asset to our community, and the second, to serve with a sincere and compassionate heart. Complete is on the front lines of the COVID-19 pandemic, cleaning hospitals, nursing homes, schools, and various commercial buildings. On a daily basis, we witness the brave doctors, nurses, technicians, dieticians, and the most remarkable hospital volunteers serving the people of Alabama and Florida. We wanted them to know how much all of us at Complete appreciate their efforts on behalf of the community, and that we have their backs."

Mr. Carpentier was then asked how Complete was able to donate 450 N-95 masks and still be able to respond to cleaning and applying disinfectant requests by area medical facilities and businesses. He stated: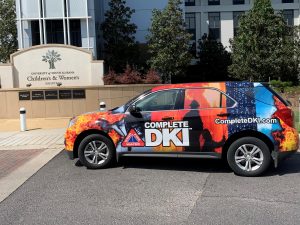 "We provide services from Biloxi, MS, all the way to Tallahassee, FL. For our large commercial clients, we travel to states outside of our coverage area. We always need to be able to respond to a disaster rapidly and mitigate damages. We are used to thinking of disasters as primarily weather events, but as we have all learned, disasters can also be caused by an invisible virus. While we never envisioned a world-wide pandemic, we did foresee the potential of a viral outbreak such as MERS, Ebola, or H1N1. Because of that preparation, we believe that we have enough masks, as well as respirators, to more than meet the needs of our employees while they clean and apply disinfectant to area businesses to help combat the spread of COVID-19." Complete , headquartered in Pensacola, FL, is the largest restoration company on the Gulf Coast. They have additional offices in Mobile, AL, Milton, FL, and Tallahassee, FL. They provide restoration and remediation services to both residential and commercial properties.
24 Hour Emergency Service
Our emergency response teams are available 24 hours a day, 365 days a year using the most up-to-date technologies and is proud to employ quality professionals with superior skills and certifications. Our team is fully insured, licensed, and is registered to do business in the Pensacola, FL, Tallahassee, FL, and Mobile, AL areas.