House Fire | Personal Stories from the Restoration Industry | Wendy Myers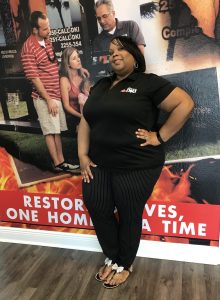 At Complete, one of our core values is
heart
.
We know that what we do truly makes a difference in our clients' lives. Many of us have first-hand experiences of how we have made that difference. This week we are excited to launch a new blog series highlighting personal stories from our team members and what makes them so passionate about restoring lives. To start us off, we met with Accounts Receivable Manager, Wendy Meyers. She shared her own experience needing the services of a restoration company for a fire at her home and how that has shaped how she fulfills her role serving our clients with a sincere and compassionate heart.
---
Personal Hardship
Not too long before I applied for the job at Complete, I had had a house fire. Before that, I didn't really realize this industry existed.  My husband received first and second degree burns on his legs and feet, he had to be taken to the burn unit in Mobile, Alabama. My daughter was just 3 weeks old at the time. It wasn't until we were told "he needs to go to the hospital," that we realized how serious the fire really was. When arrived in the emergency room, they told us he needed to go to the burn unit and we were transported right then.While all that was going on I still had to worry about all of my belongings at the house being packed up. I wasn't there to physically do anything. Imagine having all of your stuff packed up and you really can't do anything. Our insurance adjuster came to our house while my husband was in the hospital. He got us in touch with a restoration company.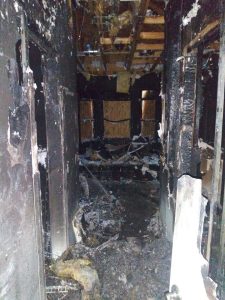 I did not know Complete at the time. The company that came in packed out our contents and cleaned up. The only thing they didn't provide was reconstruction. After they left, we had to find somebody to do the rebuild. We were sort of left high and dry in that regard. So, when I came to work for Complete I had in mind how I felt in that situation and being able to work for a company that provides both ends of service; the mitigation and the rebuild. And being able to help a customer that was also the victim of a house fire.
New to the Restoration Industry
Before I had the house fire, I never knew a company like this existed. I was really excited about working for a company where I can talk to people knowing that I've been through something similar; I understand, and I can help you through it.  Now, looking back, I learned things through my own experiences and through working this job, where the company that helped me with my fire damage could have improved or done better. I learned how I was and how I was not helped from my experience.
Showing Heart, Helping Customers
My house fire has definitely shaped how I work with customers. For instance, one customer I spoke to was in tears. This woman's daughter was unfortunately hurt in the house fire they had just experienced. I completely understood where she was coming from and shared my story. I told her it would be all right and that we would take care of her. Just being able to talk to people and explain and be able to share my story like that; it's a big deal, it's valuable.I take pride in the fact that I help frustrated customers. I am happy when I am able to ease their mind. Sometimes I feel like I talk people off the ledge because these situations are extremely stressful. You have to let them know you are here to work
with
them and hopefully that calms them down. I try to also be a person of my word. If you say you are going to do something, you do it. Don't make empty promises. I always say "we'll figure this out, I want to get it resolved." My promise to them is make sure we can get it resolved.
A Path Back to Normalcy
My favorite part of my job is working with people that are experiencing certain types of damages maybe for the first time and being able to help them through that process. As I said, before I experienced a fire myself, I didn't know this industry existed. A lot of the time it is the same for our customers.I'm not on the front lines like I used to be, but I did start out there. I used to take the calls coming in from people who needed help. So, I know that part of it. In my role now, I still help our customers whether it's helping people understand the mortgage process or the insurance process, it's all a part of it. It's the people aspect that makes it all fun. I feel like I'm an important part of that path back to normalcy
---
Thank you Wendy for sharing your experiences with us. Make sure you don't miss the next installment in this series; be sure to follow us on our social media pages. Find us on
Facebook
,
LinkedIn
,
Twitter
,
Instagram
, and
Youtube
.
24 Hour Emergency Service
Our emergency response teams are available 24 hours a day, 365 days a year using the most up-to-date technologies and is proud to employ quality professionals with superior skills and certifications. Our team is fully insured, licensed, and is registered to do business in the Pensacola, FL, Tallahassee, FL, and Mobile, AL areas.