Pet Emergencies During a Disaster Situation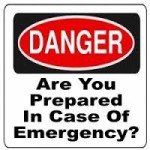 When there is a hurricane, tornado, or any other type of natural disaster in the midst of our local weather forecast. Most likely, the
last thing on your mind
is thinking about scrambling to get your family prepared as well as getting your
pets
prepared. Don't wait until the "calm before the storm" is right on your heels,
prepare your pets now
.
You and your fur babies will be glad you did
. Being prepared before a disaster can be accomplished by following these simple steps.
Make a plan before disaster strikes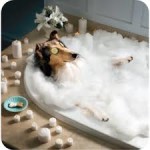 Making a plan before disaster strikes is crucial to your safety, as well as your pet's safety
.If a disaster strikes unannounced, you could be anywhere. You could be home, you could be running errands, you may have to evacuate or you may be stuck where you are.
What's a pet parent to do if they can't make it home?
Easy! Ask your neighbors
ahead of time
if they would take care of your pet in case of emergency and
offer the same to them if they have pets
. Also, have an evacuation plan in place.
Make sure you are aware of any pet 
friendly shelters in the area as well as pet friendly hotels that you may evacuate too.
All La Quinta Hotels are pet friendly. See their policy
here
. Most Marriot Hotels are pet friendly. You can see their policy
here
.
Always keep some form of ID on your pets.
ALWAYS
, no matter where you are
keep some sort of identification on your pet
. Always have an identification tag on your pet. Even better, have your pet
microchipped
. The chances of your pet making it back to you after a disaster if they were to end up getting lost are increased drastically due to ID tags and microchips. If your pet is micro chipped,
keep their tag number stored in your phone
so that you always have it on hand in case of emergency.
Keep a pet emergency kit in your car.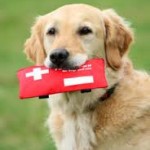 Just like you prepare an emergency kit for
each member of your household
in case of emergency,
you should also have one prepared for your pets
. You should
stock up on your pets food, medications, litter, include bowls, and enough water to cover your pet's needs as well as your own
. It is also a good idea to have a
pet first aid
kit as well.
Your pets don't really have 9 lives,
so make sure you have the correct means to keep their wounds clean just in case they do get hurt.The
American Red Cross
has a "
Pet First Aid" app
for any iPhone or Android device. Click
here
to find out more information!
Keep your pets records in one place.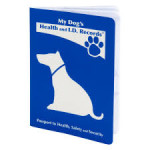 In case of emergency the
last thing
you want is to be running around trying to scrounge up all of your pet's proper paperwork.
Choose a fire and flood safe place
to keep
all
records so that you may be able to get what you need quickly.
It should include, updated records of vaccinations, health issues and microchip information
. It is also a good idea to
keep up to date pictures
in case your pet becomes lost you will have all means to make a "lost pet" poster.
Crate, Crate, Crate!
In scary situations, your pet is at the most risk to run away
. Their first instinct is to
run away and hide
. This is the
last
thing you want your pet doing. That is why it is
best to either have your pets crate trained
so that you may secure them in case of an emergency or to
have them on a lead
of some sort. (In my opinion, a harness attached to a lead is almost always better than a collar attached to a lead. My dog will pull out of a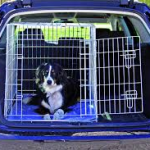 collar in the blink of an eye, which is why she always has a harness on when we go "bye-bye")
A lways keep a pet emergency sticker in the front window of your home.
Where in the world do you get one of those?
At Complete DKI of course!
Complete
has custom made Emergency pet stickers for your home! They notify emergency responders of
how many pets (cat, dog or other), children, and adults are in the home
. Stop by either our Mobile or Pensacola office to get your
FREE
pet sticker today!
Pensacola:
511 Wynnehurst St. Pensacola, FL 32503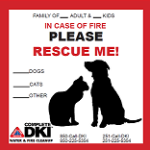 Mobile:
3350 Hall Mill Rd. Mobile, AL 36606
24 Hour Emergency Service
Our emergency response teams are available 24 hours a day, 365 days a year using the most up-to-date technologies and is proud to employ quality professionals with superior skills and certifications. Our team is fully insured, licensed, and is registered to do business in the Pensacola, FL, Tallahassee, FL, and Mobile, AL areas.