Pet Safety During a Flood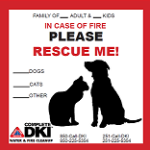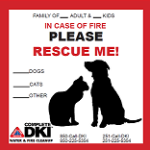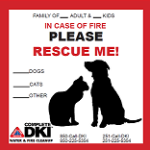 When it comes to pet owners being asked if they believe whether or not their pets are a part of the family,
95% of them would say yes
.  All too often when a family is making their disaster plan, their pets are left out. So, how can you keep your pets safe if a flood were to take place?First things first
pet safety during a flood
is crucial, you need to have a
list
of things you are going to need
specifically for your pet along with what you need for your family
. You should have the proper leads or carriers needed to safely transport your pets in case of an emergency. In addition, you should have a "pet emergency kit" like the one
here
.Containing any pet first aid products, a bowl, water, food, and any medications your pet may require. Always keep in mind that a pet that is not normally skittish may become very skittish under stressful circumstances as a flood and they may run. This is why they need to be on a lead.
TIPS:
Keep in mind that standing water that you may be able to walk through easily; your pet could be easily swept away.
If for some reason, you are forced to leave your pet behind. You may put a "rescue me" sticker near the front of your home; this can help save your pets life in an event of an emergency.
What is a "rescue me" sticker?
A rescue me sticker is a sticker specially designed by Complete to help make first responders aware of what type of pet and how many pets there are in the home.  A simple idea, but can mean life or death to your precious "fur babies".
How can you get yours?
Stop by one of Complete's locations (Pensacola or Mobile) to pick up your FREE "rescue me" sticker today!
Pensacola:
511 Wynnehurst St Pensacola, FL 32503
Mobile:
3350 Halls Mill Road Mobile, AL 36606

24 Hour Emergency Service
Our emergency response teams are available 24 hours a day, 365 days a year using the most up-to-date technologies and is proud to employ quality professionals with superior skills and certifications. Our team is fully insured, licensed, and is registered to do business in the Pensacola, FL, Tallahassee, FL, and Mobile, AL areas.