Preparing for a Tornado : What you need to know
Tornadoes are natures most violent storms. They can destroy a neighborhood and hundreds of lives in seconds. So, it is very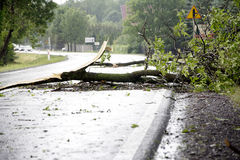 important to know how to prepare in the case of an actual tornado. A
tornado
appears as a rotating, funnel-shaped cloud. Winds can reach up to 300 miles per hour in extreme conditions and can have a damaging path of up to 50 miles long. Tornadoes cause an average of 1,500 injuries and about 70 fatalities in the U.S each year. Before a tornado hits, everything may get calm, winds might slow down, and everything may become very still. Tornadoes usually appear at the end of a thunderstorm. They can also form from tropical storms and hurricanes once on land. Tornadoes can also be called "twisters" or "cyclones". They may strike quickly, with little to no warning and may appear transparent until dust and debris are picked up. The average tornado moves Southwest to Northeast, but they have been known to move in any direction.
To prepare for a tornado
you should build an emergency kit and make a family communication plan. A Tornado Watch means that tornadoes are possible and you should remain on alert for weather changes.
A Tornado Warning
means that a tornado has been spotted and you should take shelter immediately. Listening to the radio and watching the news will help keep you informed of any changes in weather conditions. Look for dangerous signs such as a dark or greenish colored sky, large hail, large, dark, low clouds, and loud wind ( sounds like a train). If you notice any of these dangerous signs, take shelter immediately. If you are in a building, go to a pre-designated area or safe room, basement, cellar, or the lowest floor of a building. Find a room with no windows such as a closet or interior hallway. Try to put as many walls between you and the outside. Do not open windows. If you are not in a sturdy building or if you are outside with no shelter, get into your vehicle and drive to the closest sturdy shelter. You can also take shelter in a stationary vehicle, put the seat belt on and cover your head with your arms, blanket or cushion. If you do not have a vehicle, lie in an area noticeably lower than the level of the roadway and cover your head with your hands. Stay away from bridges or any overpasses and always watch out for flying debris. Flying debris causes the most fatalities and injuries during tornadoes.After a tornado, you will want to listen to local officials for updates and instructions. Call family and friends to make sure everyone is safe. If you're traveling watch for debris and down trees and power lines. Do not move if you are trapped, tap on a pipe or use a whistle if you have one so rescuers can locate you. If you experience
damage to your home or personal property
call
Complete
24/7. Our trained staff will be on standby ready to help.Florida: 850-225-5354Alabama: 251-225-5354
24 Hour Emergency Service
Our emergency response teams are available 24 hours a day, 365 days a year using the most up-to-date technologies and is proud to employ quality professionals with superior skills and certifications. Our team is fully insured, licensed, and is registered to do business in the Pensacola, FL, Tallahassee, FL, and Mobile, AL areas.