Preventing a Cooking Fire
A house fire is one of those things homeowners never want to think about, and believe it will never happen to them. But in all reality, possibilities for a house fire are everywhere. Did you know, in the last month over 5 Escambia County residents have suffered from a house fire? While house fires are not always 100% preventable, there are things you can do to help. That is why Complete has some tips on what you can do to help prevent a cooking fire within your home!
Statistically, cooking is the main reason for house fires nationwide. Cooking fires can result due to ignition of food or other cooking materials, loose fitting clothing, and oven fires. Overall, frying food possesses the greatest risk for a cooking fire within the home. Especially, on Thanksgiving! To minimize the possibility of a kitchen fire, eliminate loose fitting clothing in the kitchen, NEVER leave cooking food unattended in the kitchen, and always have a fire extinguisher available.
REMEMBER: There are specific extinguishers for specific fires! In this case, you want to have a multipurpose extinguisher in your kitchen.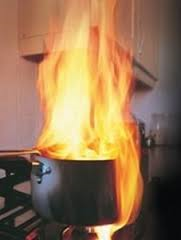 In fact, just this morning Escambia County Fire Fighters responded to a house fire due to cooking! The news reported that the homeowner got up, started cooking breakfast, and fell back asleep. Next thing you know, BOOM ! A house fire was in the making. It can happen! Preventing a cooking fire within your home is simple, just follow those simple steps and your risk for a fire will decrease significantly!
If you are suffering from fire damage in your home, Florida residents give Complete a call at 850.225.5354 and Alabama residents give us a call at 251.225.5354 ! Complete has a full service technician and crew on call at all times in Mobile, AL and Pensacola, FL! For a complete list of the services we offer click here.
24 Hour Emergency Service
Our emergency response teams are available 24 hours a day, 365 days a year using the most up-to-date technologies and is proud to employ quality professionals with superior skills and certifications. Our team is fully insured, licensed, and is registered to do business in the Pensacola, FL, Tallahassee, FL, and Mobile, AL areas.