Preventing Fire Damage this Christmas Season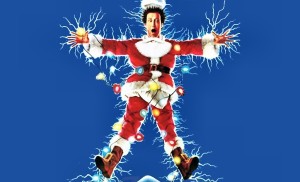 '
Tis the season to be jolly!
I'm sure that most of us can agree that
Christ
mas
is the
best
time of the year! Christmas trees, beautiful ornaments, houses all around town shining with lights, poinsettias on the front porch and of course a good Christmas meal. It is such a
wonderful
time of year that sometimes we can be
so
caught up in the moment that we forget some of the most
important fire safety precautions
.
Did you know
that
U.S. fire departments responded to an estimated 210 home fires per year that  began with Christmas tree fires in 2009-2013
? Unfortunately, Christmas trees can be a
huge fire hazard
so it is up to
you
to take the correct
precautions
to ensure that you and your family can have
safe
 and
fire-free
holiday!
Complete
is here to help you this holiday season! Before you start your decorating this year,
please
take a minute to check out these
valuable tips!
Before you start hanging up lights on your house, inspect them thoroughly to make sure that they are working properly and don't have any loose connections or eroded ends. If you do notice a light bulb out, replace them right away!
Try not to overload your homes electrical circuits. This can be very dangerous and can cause a fire !
To prevent getting electrocuted, use insulated hooks to hang up lights instead of nails or screws.  
Always  make sure to turn off your Christmas lights  before leaving your home or going to bed.
Make sure  that the lights you are using outside are labeled "outside lights" and the lights you are using inside are labeled "inside lights".
Never  place your Christmas tree anywhere near a heat source.  Especially a fire place.
Christmas trees always  look better wrapped in lights, but please  do not overload it with them. This can cause your circuits to overload which can lead to a fire.
Keeping in mind that your home could possibly suffer from a fire, take precautions and make sure that all exits are clear and your Christmas tree or any other decorations are not blocking any pathways.
Natural Christmas trees have a much higher risk for catching fire. If you use an artificial tree, make sure that it is flame retardant.
Let's face it, we are all
so busy
this time of the year. We have last minute gift shopping, Christmas parades, work parties, family gatherings and
all kinds
of different activities to do in such a short amount of time. It is
too easy
to forget that simple decorations and an innocent little (or big) Christmas tree could start such a
huge tragedy
. You could be hanging up the Christmas lights outside with your son and maybe he
wasn't aware
that you
cannot overload the circuits
. He plugged
one too many
light strands in and
BOOM
, an
electrical fire
has started. It is
so important to educate
not only yourself, but your family as well.If you experience
fire damage
in your 
home
, call
Complete 24/7
. Our technicians work
around the clock
and are always
fully prepared
in uniforms and
clearly marked
Complete
vans. Our technicians are always
professional
and
presentable!
If you experience
fire damage
, please contact our
full service
location on
Davis Highway
by calling
850-CALL-DKI or 850-225-5354.
Complete 
wishes you and your family a very
Merry Christmas
and a
Happy New Year!
*REMEMBER... Christmas is the time to kindle a fire in the heart, not in your home!
24 Hour Emergency Service
Our emergency response teams are available 24 hours a day, 365 days a year using the most up-to-date technologies and is proud to employ quality professionals with superior skills and certifications. Our team is fully insured, licensed, and is registered to do business in the Pensacola, FL, Tallahassee, FL, and Mobile, AL areas.