Hurricane Michael: One Year Later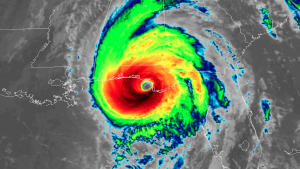 On October 10, 2018, Hurricane Michael made landfall on the Florida Gulf Coast as a Category 5 hurricane. Initially forecast to make landfall as a tropical storm, Michael rapidly strengthened into the most devastating hurricane on record to hit the Florida Panhandle. With only a few days to prepare, the team at Complete mobilized to respond to the areas affected. On the anniversary of the storm, some of our team share their reflections of what responding to Hurricane Michael was like.
Deploying the Complete Team
Many of our team deployed directly to the areas that were hit hardest. Hugh Bohannon, Vice President of Sales and Marketing, said of the experience: "My most distinct memory is the difficulty in traveling to the areas that were affected by the hurricane. Just basically crawling down the roads, which gave you a very long time to see the utter devastation of the buildings and the absolute pain on many of the victims' faces; it was very surreal."
Local Devastation from Hurricane Michael
The personal toll caused by the storm could be seen in the destruction of the landscape along the coast. Shaun Carpentier, President and Owner of Complete, recalled the impact that seeing the damage first-hand had on him: "The thing that hit me the most was the first time that I went over the bridge from Panama City Beach to Panama City, how completely devastated it was. It didn't look like a hurricane went through. It looked like a humongous tornado had gone through, because everything was just leveled. Even after responding to numerous other hurricanes, I've never seen such widespread devastation as what happened with Hurricane Michael. Once you went over the bridge, it was shocking. When you were on the beach, it was like 'okay, not that bad.' Then as soon as you got half a mile from the bridge, it was like 'what happened?' It was just complete devastation."Dwayne Greer, Warehouse Assistant, reflected, "The thing I remember most was seeing all that stuff just torn up. When you see a hundred trees leaning over, it's amazing. You see a house that isn't touched, but you see all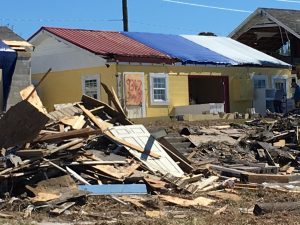 the trees destroyed around it…it's like God just shielded them."Several team members remarked that the storm's proximity made an impact on them. Wendy Meyers, Accounts Receivable Manager, said, "I think the most impactful thing for me was having it so close to home. I mean, I've been through storms before with the floods here in Pensacola, but not a hurricane so close to home. The whole team was working together on every level to get everything completed. We were all here 7 days a week answering phones from 7 a.m. to 7 p.m., talking to people affected right at our back door. And knowing that a small turn and it could have been us. We've been through a lot as a company, but having it here…that was really something."Due to the rapid escalation of the storm's severity, the team had very little time to prepare for mobilization. Despite this, Phil Holland, a Project Manager in our Mitigation department, remembered how coordinated the team was: "The mobilization and logistics were mind-blowing. You would think that it would be scrambling to get out there and scrambling when we got there, but it wasn't. There was a plan every step of the way. It was organized from day one. And when we needed something, it was there the next day; I mean 50 dehumidifiers that we needed would show up on a job. I think the most impactful thing was whatever we needed on a job, Ashlee and Shaun got it for us."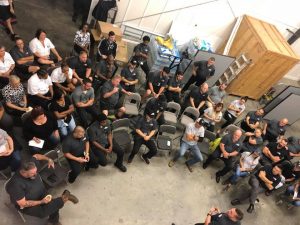 Our team knew that this storm would mean long workdays. For
Kristin Ruschel
, Reconstruction Assistant Project Manager, Michael was not her first time going through a catastrophic weather event: "The day Michael hit we got here that morning and had a meeting. I walked in with a blanket, change of clothes, and a pillow. Having been through a storm personally with my parents and my grandparents, then working the floods here a few years ago, I knew what to expect. There were times that I got to work at 6:30 a.m. and left at 11:30 p.m."
The Long Hours and Intense Interactions with Clients
While many of the team was laboring out in the field, others stayed back working long hours behind the scenes. Owner and Vice President, Ashlee Carpentier, helped man the ship. She recalls an interaction with a customer shortly after the storm: "I told a client that it would be two or three weeks before we could get to them and they were very upset. I apologized and explained that everyone's busy and suggested she call around and see if someone can get to her sooner and, in the meantime, we can just put you on our list. She was just irate. Thirty minutes later the phone rang, and it was the same client and she said 'I am so sorry. I had not left my house and I didn't know it was so bad, two or three weeks makes a lot more sense.'"Jeri Rivera, who was Project Coordinator at the time, also remembers long hours and tense interactions with clients: "It felt like it never ended. I mean, I'm a single mom and I didn't really get to see my kids for two or three months. My days started at 7 a.m. The first thing that I would do is go and see that a hundred-plus jobs had come in overnight, waiting to be accepted. Most of the insureds were understandably really unhappy. They were upset we were asking the extent of the damage, what their deductible was, and if they were able to sign documentation. On our end, we need that information but, at the same time, I understand being in that situation; I understand their frustration. It was hard trying to calm someone down in that moment. The company, as a whole though, we all came together. We all worked together to make sure everyone was taken care of."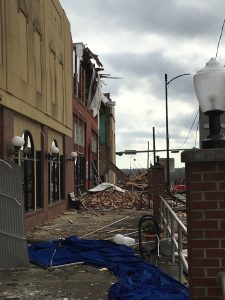 Making sure everyone was taken care of did not end with our customers. Michael was a challenging storm because it hit our own backyard. Complete has offices from Mobile, AL to Tallahassee, FL, and several members of our team lived in areas impacted by Hurricane Michael. Reconstruction Project Manager, Todd Liechty, responded to the home of one of the Reconstruction team members: "I took him my personal generator 24 hours after the storm. We were actually the first ones from Complete to get into Panama City. It was memorable; I won't forget it. When we got there people where just coming out of their homes, they didn't know what had hit them, how bad it was. We drove through people's yards, over hot power lines, all kinds of stuff, because a lot of the roads were gone. The guy I lent the generator to, he's lived there his whole life, but he told me he found himself getting lost for a couple of months because it just didn't look the same."While Michael brought stress for all involved, there were some fond memories from the period. During the long workdays, many of the animal lovers in the office brought their dogs to work with them. Ashlee shared a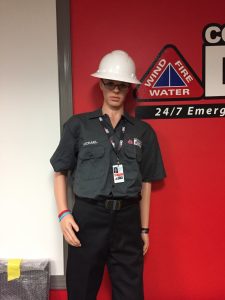 moment of comic relief supplied by a Shih Tzu: "So Mark brought his and Tiffany's two dogs to work during the hurricane. One of the dogs is…not completely coherent and she sat and barked at the mannequin in the training room for twenty minutes trying to get it to pet her." That mannequin (which presides over the training room to this day) is named Michael.Many of the Complete team reflected on the fact that, despite the 12-plus hour days for weeks on end and the struggles of assisting customers who had experienced Michael's devastation first-hand, the sense of family and camaraderie among the team was what they remembered most.
Sarah Hempel
of Complete's Accounts Payable reflected on the weeks and months after the storm: "The whole team was very close through it all; it really was like a family environment. We ate meals here together, we worked back to back; we all got real comfy." Tara Ardis of Accounts Receivable described the period as "organized chaos." She added, "I was working on getting all my other jobs in line because I knew I'd be hit with a tidal wave once the Michael jobs started coming in. And it was like a tsunami, but it was a close team environment; you knew you had to be tight with everybody."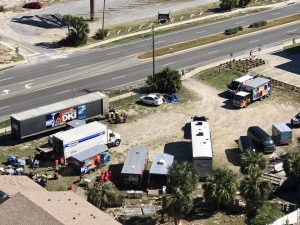 Kristen Ruschel discussed how coming together as a team meant that many had to inhabit new roles and learn new skills: "You hear about what we called 'the war room,' that was where a lot of us worked together during the storm. A lot of those people did not have experience answering phones, a lot of them did not input jobs before. There were guys that had never dealt with storms. As a group, there was a lot that we did not know, but we were capable of as a team. Some were in the kitchen cooking lunch and making sure everyone got fed, some took dogs out, some picked up kids. They went and brought my daughter here so she could be with us."The long hours and heavy workload may have seemed daunting to some, but when asked what made the biggest impact during the storm response, Mark Meece, Vice President of Operations at Complete, expressed his faith in the team: "It's always the same thing for me. It's always amazing how our people can adapt and come together to overcome an insurmountable task."
Hurricane Michael - Reflecting on the Experience
As we reflect on the experience, it feels surprising for many on the Complete team that a year has already passed. Certainly, this sentiment is shared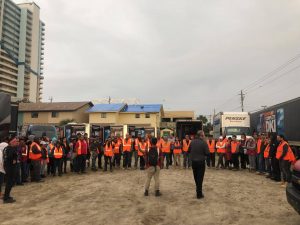 by many that were affected by the storm. Communities such as Apalachicola, Mexico Beach, Panama City, Lynn Haven, Marianna, Chipley, and many others continue their recovery efforts even now. Many have left the area permanently while others strive to rebuild their homes and businesses. Pulling our team together in the wake of Hurricane Michael was a microcosm of the unity echoing across the Gulf Coast as family, friends, and neighbors banded together in their communities with the proclamation that they are (and continue to be) #850Strong. We are grateful that so many trusted us as their restoration company when Michael hit, and Complete will continue to serve the Gulf Coast with a sincere and compassionate heart.
FEMA's Business Hurricane Toolkit
is a helpful resource which all property owners who may potentially be effected by a hurrican,e such as Hurricane Michael, should review.
Contact us at 850.CALL.DKI in an unforeseen emergency for all of your restoration needs.
24 Hour Emergency Service
Our emergency response teams are available 24 hours a day, 365 days a year using the most up-to-date technologies and is proud to employ quality professionals with superior skills and certifications. Our team is fully insured, licensed, and is registered to do business in the Pensacola, FL, Tallahassee, FL, and Mobile, AL areas.