"Rescue Me!" Stickers, Get Yours Today!
"Rescue Me!" stickers for the front window!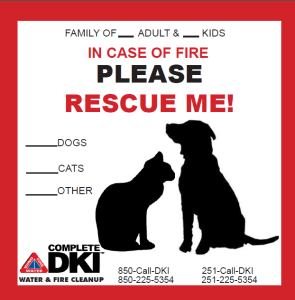 Here at Complete we not only care for the safety of your family, but for the safety of your pets as well. That is why we came up with our "Rescue Me!" stickers for the front window of your home. What's the purpose of the stickers you say? The purpose of the stickers is to let fire fighters know (if there is still anyone in the home) how many adults and kids live in the home, as well as if there are any dogs, cats, or other animals trapped inside. The "Rescue Me!" stickers are meant to give your animals the best chance of survival if a house fire were to take place in your home.Did you know some fire trucks even carry equipment specifically made to fit your pet in case they were to suffer from smoke inhalation in the event of a fire? It's true! Recent statistics show that more than 500,000 pets die each year due to house fires. That's devastating. Here at Complete we hope to decrease the number of pet deaths due to house fires with the use of our "Rescue Me!" stickers.How can you get one? Stop by one of our two locations between the hours of 9 A.M. and 5 P.M. Monday through Friday  to get your FREE "Rescue Me!" sticker today!Pensacola: 511 Wynnehurst St. Pensacola, FL 32503Mobile: 3350 Halls Mill Rd. Mobile, AL 36606 Suite AIf you are in need of fire cleanup in Pensacola or Mobile, give us a call at 850.225.5354 or 251.225.5354!
24 Hour Emergency Service
Our emergency response teams are available 24 hours a day, 365 days a year using the most up-to-date technologies and is proud to employ quality professionals with superior skills and certifications. Our team is fully insured, licensed, and is registered to do business in the Pensacola, FL, Tallahassee, FL, and Mobile, AL areas.