The Restoration Industry is Not What You Think- A New Employee's Perspective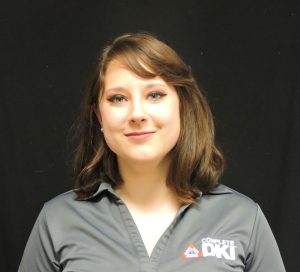 To the average person, the Restoration and Insurance Industry can be confusing and mysterious at best and frustrating and isolating at worst. It can be a challenge to know where to even begin with so many acronyms and buzzwords. It can seem like another world.My experience was no different. Until recently, I knew little to nothing about the industry. Which is ostensibly not ideal since I was being brought on as a team member at Complete. I had heard of Complete while helping my parents pack up their severely damaged home in Panama City after Hurricane Michael. Complete's trucks were hard to miss, and I didn't know much else.
New Opportunity with Complete
Although thrilled for the opportunity, I had to question whether they had made a mistake in hiring me. My education and background as a therapist seemingly left me little prepared to infiltrate this strange new world. Not only this, but I was entering a field that's predominantly male. The mental health field as a whole, especially Art Therapy in which I am trained, is mostly female. On top of all that, Complete is a larger company than I am used to working in (and growing more all the time). Would I be lost in the shuffle? How could I make an impact among so many people who are more experienced and knowledgeable? Talk about a fish out of water! Now that I've had a chance to get my feet wet (well, damp at least), I can reflect on how (thankfully) wrong I was.Not to uphold stereotypes but I am the kind of girl that gets nervous at the mechanic if there are no women working. For better or worse, it can be intimidating to be the only female in a space full of men. Especially when you aren't familiar or confident in what is being discussed (I don't know a carburetor from a radiator). Stepping into a male dominated field, I felt the same sense of anxiety. In fact, before starting this job, I maybe knew more about cars than I did about Restoration. As it turns out, I shouldn't have worried.
Committed to Core Values
At Complete, the commitment to their core values of
teamwork
(supporting one another, working cooperatively, respecting one another's views and making the work environment fun and enjoyable) and
professionalism
(acting with integrity, providing quality service, and being reliable and responsible) supersedes any intimidation that may have stemmed from being a lady fish in a man fish pond. Add to this the fact that Complete is home to an abundance of strong women. From the dynamic and energetic co-owner to a passionate and fiery project manager and many others in between.As for my second concern about my background being incompatible with working in this industry, I was wrong again. From day one the emphasis has been on customer care. It's about being a support to people in what is potentially the most difficult time in their lives and helping them put the pieces back together. Sitting with people's pain and being able to say "I'm sorry this has happened to you, I'm here for you, let's work together to move forward" is vital to being a good therapist. It also happens to be espoused by another of this company's core values:
heart
. Heart is taking pride in our job knowing it makes a difference in someone's life and demonstrating sincere care for clients.At the end of the day, at Complete, what's most important is not that you can speak the language or know the jargon. If all you know is that you have a burst pipe or wind damage from a storm, Complete will walk you through the rest (including assisting you with the confusing and oftentimes frustrating claims process). The lesson I'm learning, is that you don't need to speak restoration because the primary language used at Complete is that of humanity, compassion, and caring.Now that I'm settling in, I can also say that Complete is certainly a larger company by the standards I am used to. With offices across the Gulf Coast in Mobile, Pensacola, Milton, and Tallahassee it would be easy to feel like a lost cog in a machine. This has not been my experience. For this I think I can thank another of Complete's core values:
ownership
. Ownership means that every person here from the owners to the newest of newbies takes every opportunity to personally take actions to handle customer needs as we see them. The attitude of "not my job, not my problem" has no place here. Each team member is therefore valuable and vital.
Breaking the Mold on my Expectations
I'm sure I'll have the lingo down eventually. My teammates are certainly being patient and helpful with me on that front. In the meantime, it is comforting to know that core values of Complete (teamwork, professionalism, heart, and ownership) create an environment in which anyone willing to adopt these can thrive.The final core value of Complete is
excellence
which trickles down into every facet of this company. Excellence is a striving "to be outstanding and go beyond ordinary standards and people's expectations." I had many expectations when coming into this company and this field. I'm sure I'm not alone in that. I can say that, in the short time I have been a part of the
Complete family
, the expectations of confusion, frustration, and isolation I feared have proven unfounded. I have been set at ease, coached, educated, and above all, welcomed and I look forward to see where else this journey will take me.
24 Hour Emergency Service
Our emergency response teams are available 24 hours a day, 365 days a year using the most up-to-date technologies and is proud to employ quality professionals with superior skills and certifications. Our team is fully insured, licensed, and is registered to do business in the Pensacola, FL, Tallahassee, FL, and Mobile, AL areas.