Safe cooking this Christmas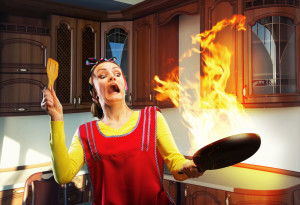 I'm dreaming of a white Christmas....
Keep that in mind this year while cooking your holiday meal. I think we can
all agree
a
charred and soot
filled Christmas is
last
on our list! Cooking in the kitchen on Christmas can be a
very stressful event
. Family is in town, kids are running around like crazy and having all your family in one house is bound to be
pure chaos
.
Did you know that frying in the kitchen poses the greatest risk for a fire?
 Since this is the
sad truth
,
Complete
would like to provide some
tips
for you and your family this Christmas to
prevent a disaster
.
First and foremost, always make sure that your home has working smoke alarms. Never remove any of the batteries without replacing them. Having a working smoke alarm can save your life.
Even though this time of the year is hectic, make sure you are always paying attention to your food and never leave it unattended. Always be alert and have timers for your dishes. This helps prevent kitchen fires and of course, who would want their food burnt to a crisp ?
Leftovers are the best this time of year. It's like your Christmas meal gets to go on for days and what is better than that? Make sure that you keep leftovers in the fridge and do not leave anything in the oven. If another family member didn't realize the oven was stocked up, they could turn it on and this would be a recipe for disaster. 
Leading up to Christmas Eve, you have all the kids in town and since cooking will be the only thing you will have to do for the next couple days, pizza delivery is a must. Make sure that the pizza boxes do not get left in the oven. This is a huge fire risk. 
In case of an emergency, it is important that your family has an emergency escape plan and knows what to do in case of a fire.
If you are frying food this Christmas, make sure when the fryer is in use it is never left unattended.  Unattended cooking is the leading cause for kitchen fires.
Christmas is the most exciting time of the year
. It's a holiday for
giving, loving, eating and being around our loved ones
. Even though we are all going to be busy preparing our holiday meal, try to keep these
tips in mind
to prevent a
disaster
in your home this year. We often think that leaving the food to fry by itself will be
just fine
while we go and greet Aunt Betty at the front door but the next thing you know little Charlie rides his new scooter through the kitchen while Susan is chasing him, they knock over the
grease filled fryer
without realizing it and the next thing you know the
kitchen is up in flames
. We can all agree that a house fire is
not
on our
Christmas list to Santa this year.
If you experience 
fire damage
 in your 
home
, call 
Complete 24/7
. Our technicians work 
around the clock
 and are always 
fully prepared
 in uniforms and 
clearly marked
Complete
 vans. Our technicians are always
professional
 and 
presentable!
 If you experience 
fire damage
, please contact our 
full service
 location on 
Davis Highway
 by calling 
850-CALL-DKI or 850-225-5354.
Complete wishes you and your family a very Merry Christmas and a Happy New Year!
24 Hour Emergency Service
Our emergency response teams are available 24 hours a day, 365 days a year using the most up-to-date technologies and is proud to employ quality professionals with superior skills and certifications. Our team is fully insured, licensed, and is registered to do business in the Pensacola, FL, Tallahassee, FL, and Mobile, AL areas.