Space Heater Safety, How to Avoid a Fire
Space Heater Safety And How to Avoid a Fire
Fire damage in Pensacola
can happen at any time. Too often Gulf Coast homeowners become victim to a fire. It only takes
one mistake and one split second
to cause fire damage in your Pensacola home. Space heaters and home heating equipment are the
number four
most common
reasons for a house fire.
With that said, do you know how to safely use a space heater?
  Complete specializes in fire damage remediation and has some tips on how you can safely use a space heater in your home.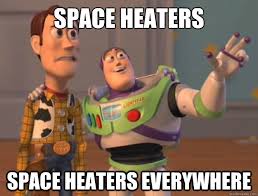 Here are some helpful tips on how to prevent a fire due to a space heater.
Always, always, ALWAYS select a space heater that has a guard or something surrounding the open flame or heating element. This prevents anything from getting to close to the element and heating up and/or catching fire.
Never purchase a heater that has not been certified by a nationally recognized laboratory. This helps to ensure you are purchasing the safest heater possible.
Make sure the heater is the correct size for the type of room you are trying to heat. If your heating a small area, there is no need for some massive heater that will heat the room in 2 minutes. Slow and steady wins the race.
Make sure to leave the door open to the room you're trying to heat with the space heater. You need to have proper air flow through a room with a heater running.
NEVER leave a space heater running if you are going to be leaving the room, leaving the house, and definitely not while you are sleeping.
Complete responds to
fire damage
calls year round, not just in the winter. Although, we do find fire damages are more common in the winter months (especially once the Christmas trees go up). A fire is not just caused by a space heater; it can be caused by a number of things. Maybe your wife was attempting to cook, or your toddler knocked a candle over on to the curtains trying to reach the "pretty light". It really can happen to
anyone
. Either way, Complete is here for you.
"When Disaster Strikes, We Strike Back!"
If you experience a fire damage in your Pensacola home, call
Complete
24/7 at
850.CALL.DKI
. Our technicians are
always
ready to help!
24 Hour Emergency Service
Our emergency response teams are available 24 hours a day, 365 days a year using the most up-to-date technologies and is proud to employ quality professionals with superior skills and certifications. Our team is fully insured, licensed, and is registered to do business in the Pensacola, FL, Tallahassee, FL, and Mobile, AL areas.