Spotlight
Hello Everyone!
It has been 3 years since we rebranded as Complete! Our amazing staff has grown from a mere 9 employees to an impressive 34 in the last year and a half! That said, I would like to take a moment to put the spot light on our Marketing Assistant, Mary Furney.
Mary has been working with Complete since April 2014; she specializes in online marketing, blogging, community involvement and customer service. Her blog posts have focused on a number of topics such as pet safety, water damage, fire damage and so much more. Mary is based out of our Pensacola office but she takes care of the blogging and online marketing for our Pensacola and Mobile office as well.
Thanks to Mary for taking the time to write so many awesome blogs! Below is a collection of what she has written over the last year and a half.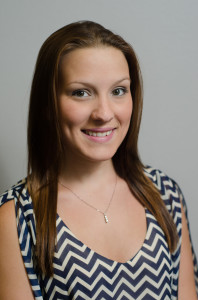 Smoke detectors vs smoke alarms, do you know the difference ? Many people think that a smoke detector and a smoke alarm are two terms that are interchangeable and mean the same thing. Which they most definitely are not. So, let's look at the difference between the two.
Although they do look alike, a smoke alarm is a device that stands alone and is self-contained. The alarm typically is not hooked up to anything other than a standalone power supply (usually a battery). A smoke alarm isn't connected to a fire alarm or a control panel. Although it may sound other alarms throughout the house to warn you to get out, it does not alert first responders to the emergency. Which means that they will not be dispatched to your home unless you call 9-1-1.
Now on the other hand, a  smoke detector does have a built in sensor and is part of a system within the home. For example, if a family were to have a home security system as well as a smoke detector linked to the system first responders would be dispatched to the emergency without you actually calling 9-1-1. How? The detector is linked to an external sounding device (such as the alarms main panel or strobe unit). This means that you and the first responders will both be notified of the emergency within your home.
All in all, smoke alarms only alert who is inside the home that there is an emergency. Smoke detectors alert the homeowners and the first responders. Homeowners should make an effort to get smoke detectors in their homes over smoke alarms. After all, safety is the number one concern.
To find out more information about the services available through Complete, visit our website here.


Living so close to the coast, water damage in Pensacola is quite a common occurrence. Whether the damage is a result of a severe storm or from a busted pipe within the home, prevention is the key. Preventing a water damage in Pensacola is easy to do! Complete has some tips for you!
Ensure that you have good drainage of water away from your home.
Be careful where you plant! Planting some types of trees and bushes can put your sprinkler system at risk for a busted pipe. Plants such as weeping willows have invasive roots capable of causing a busted sprinkler pipe. Plan before you plant!

Keep an eye or your water bill. Is your water bill creeping through the roof? Don't know why? You may have a leak! Higher water bills are indicative of a problem.

Use drain snakes over drain chemicals. Although using a drain snake can gross you out because you're seeing what's coming out of your pipes. Those harsh chemicals that you're pouring down the drain are also eating away at your pipes, which in the future can cause a leak.

Never pour grease down your sink!! The grease can harden and stick to your pipes causing a clog!

Going out of town? Turn off your main water line! Doing this prevents any water damage that could happen from happening. Just think of what could happen if you're gone for a week and you end up with a busted pipe! That is A LOT of water.
A water damage in Pensacola can happen to anyone. It could be due to a leak, a busted pipe, an overflowing bathtub, or even an overflowing toilet because that grand baby wanted to take her Barbie's for a swim. Water damage can be very destructive, that is why preventing a water damage in Pensacola is crucial.
A water damage is the number one culprit for any type of damage that happens within the home. If you have suffered from a water damage in your home. Give Complete a call at 850.225.5354! Our emergency crews are on call 24/7 for all your emergency needs!

"Rescue Me!" Stickers, Get Yours Today!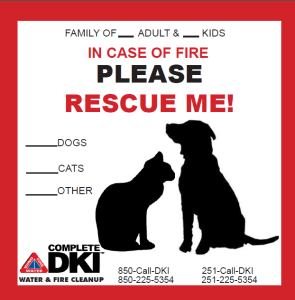 Here at Complete we not only care for the safety of your family, but for the safety of your pets as well. That is why we came up with our "Rescue Me!" stickers for the front window of your home. What's the purpose of the stickers you say? The purpose of the stickers is to let fire fighters know (if there is still anyone in the home) how many adults and kids live in the home, as well as if there are any dogs, cats, or other animals trapped inside. The "Rescue Me!" stickers are meant to give your animals the best chance of survival if a house fire were to take place in your home.
Did you know some fire trucks even carry equipment specifically made to fit your pet in case they were to suffer from smoke inhalation in the event of a fire? It's true! Recent statistics show that more than 500,000 pets die each year due to house fires. That's devastating. Here at Complete we hope to decrease the number of pet deaths due to house fires with the use of our "Rescue Me!" stickers.
How can you get one? Stop by one of our two locations between the hours of 9 A.M. and 5 P.M. Monday through Friday  to get your FREE "Rescue Me!" sticker today!
Pensacola: 511 Wynnehurst St. Pensacola, FL 32503
Mobile: 3350 Halls Mill Rd. Mobile, AL 36606 Suite A
If you are in need of fire cleanup in Pensacola or Mobile, give us a call at 850.225.5354 or 251.225.5354!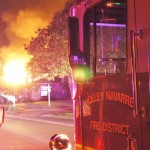 All too often, Pensacola residents hear about fire damage in Pensacola on the news. A house fire can be one of the most devastating  things that can ever happen to a homeowner in their whole lifetime. Did you know that fire damage in Pensacola is one of the most popular reasons for emergency responders being called out? Fire damage in Pensacola can happen to anyone, anytime, anywhere. So what do you do if you suffer from a fire damage in Pensacola?
Call Complete! Complete is a 24 hour emergency contractor with crews on call after hours in order to promptly respond to your emergency. Our team prides itself on mobilizing and arriving to the emergency scene within an hour of your call to us. Here at Complete, we know that fire damage in Pensacola can be stressful and we do everything to make your path back to normalcy a smooth one. We offer assistance to those who may have suffered from a fire accident due to vandalism, arson, cooking fires, electrical issues, lightening and so much more!
Many times, people think "Oh that'll never happen to me!" and just when they do think so, it does. As a homeowner we want you to be aware of the possibilities. Should you ever be in need of our emergency services, our team of skilled and professional technicians are just a phone call away. You can bet they will always be in uniform and clearly marked Complete vehicles. Let's face it, we all know that at 3 o'clock in the morning, you don't want to be letting some scraggly old "Joe" coming in to your home!
If you are in need of emergency assistance due to fire damage in Pensacola, give Complete a call at 850.225.5354.
24 Hour Emergency Service
Our emergency response teams are available 24 hours a day, 365 days a year using the most up-to-date technologies and is proud to employ quality professionals with superior skills and certifications. Our team is fully insured, licensed, and is registered to do business in the Pensacola, FL, Tallahassee, FL, and Mobile, AL areas.