Preparing For Hurricane Season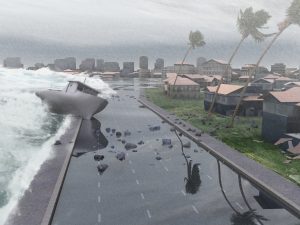 It may seem like hurricane season isn't that close, but it's just around the corner and will be here before you know it. There are several things to consider and prepare for before the storms start heading our way. The first thing to do is review your insurance policy with your agent or company to ensure you are fully covered.
A few things to note:
- in coastal counties, most companies have "hurricane" deductibles, typically being 2% of the amount of your coverage (sometimes going as high as 10%)- some companies also have "wind" deductibles- remember,
flood insurance
is a separate policy, and homeowners insurance doesn't cover rising water from an outside source. Local agents can assist you with signing up for flood insurance, but regardless this takes 30 days to go into effect – this means the sooner, the better!After reviewing your policy/policies, make sure your family is prepared on the steps to take in various situations. Know local evacuation routes ahead of time and plan out where you'll be staying if you leave. Have a go bag/disaster supply kit ready that includes: flashlights, batteries, cash, first aid kit/supplies, medications, and copies of critical information. If you don't evacuate, be prepared with adequate supplies (canned good, water, etc) and remember, you may not be able to go for supplies for several days after a hurricane.Just as important as everything mentioned above is taking care of things that could cause your
home damage
. Before a storm, be sure to:- trim or remove overgrown and/or damaged trees- secure loose rain gutters and clear clogged areas/debris to prevent
water damage
to your home- purchase a portable generator or install one for outages (*remember – keep in a dry secure area, outside about 20 ft from your home and DO NOT attempt to powerhouse wiring by plugging the generator into a wall outlet)All of these tips will certainly help you prepare for any part of a hurricane – before, during, and after. With
hurricanes
, though, living in areas like
Panama City
and Tallahassee means a higher risk of property damage. That is where
Complete
comes in – we are here 24/7 for you and your family, for any water or wind emergency you have. We respond quickly and have a fully trained, fully equipped team at the ready, especially during hurricane season.
24 Hour Emergency Service
Our emergency response teams are available 24 hours a day, 365 days a year using the most up-to-date technologies and is proud to employ quality professionals with superior skills and certifications. Our team is fully insured, licensed, and is registered to do business in the Pensacola, FL, Tallahassee, FL, and Mobile, AL areas.