Prepare Your Business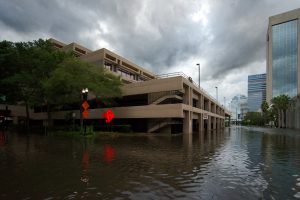 We spend a lot of time talking about how homeowners can prepare themselves and their homes for
hurricane season
, but it's important to guide businesses and business owners as well. Storms, earthquakes, and wildfires challenged various organizations, employees, insurers, claims adjusters and consultants, governments, utilities, vendors, and suppliers throughout 2017. Read that again – these disasters don't just affect the business and day to day operations, they also interfere with those working in or around those companies and their supply line, which affects business even after storm recovery. Organizations without adequate and tested risk management and business continuity plans had difficulty obtaining qualified expertise, equipment, labor, power, and fuel.With all of that in mind, check out these four tips to keep your business as ready as possible for the upcoming hurricane season.
1. Review Your Business Continuity Plans & Supply Chain Network
? Your operations and supplier's operations could be affected by storms? Know specific locations of your suppliers and their suppliers to better ensure business continuity? Consider alternate suppliers and shipping methods to prevent or limit disruptions to your supply chain
2. Help Your People!
? Before storms: help employees prepare, including getting them to safety or allowing them time to evacuate? During & After: stay connected with them and be ready to support with humanitarian assistance – including guidance on handling their insurance claims
3. Understand Your Coverage & Claims Process
? Be sure to understand: key definitions, sub-limits for flooding, and other coverage areas/other terms in your policy? Establish a framework and protocols with your insurers for gathering information and filing a claim after a storm
4. Know Your Property
? Start by verifying your property's conditions before a storm – this is critical to indemnification in the aftermath? In verifying your property's pre-storm conditions, use anything from receipts for improvements to official records or visual documentation. Also gather imagery from satellites, drones, and helicopters – this will provide you, underwriters, and adjusters a more complete picture of your property's value and potentially hidden risks?
Call in outside experts
as needed – such as
Complete
Keep in mind, these tips are not the only things to keep in mind when preparing your business from a storm, but they certainly will help you make sure your business and operations takes a minimal hit when
affected by a storm
. For more information on dealing with storm aftermath or
flooding
, be sure to check our other blogs and subscribe for updates.
24 Hour Emergency Service
Our emergency response teams are available 24 hours a day, 365 days a year using the most up-to-date technologies and is proud to employ quality professionals with superior skills and certifications. Our team is fully insured, licensed, and is registered to do business in the Pensacola, FL, Tallahassee, FL, and Mobile, AL areas.