Maintain Your Crawl Space to Protect Your Home
When is the last time you thought about your crawl space? Maybe never, or maybe when you or someone else had to crawl under there to make a repair or installation. However, if you don't maintain it, your crawl space is a vulnerable area that's susceptible to moisture, heat loss, pests and other issues.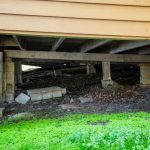 Crawl space problems can damage your home's foundation, increase energy bills, and release toxins into the air you breathe.
Because as much as
40 percent
of the air in your home originates from your crawl space, crawl space maintenance plays a big role in the air you breathe and the long-term health of your home, yourself and your family.
What is a Crawl Space?
A crawl space is a small area, ranging from one to three feet in height, between the bottom floor of your home and the ground. The crawl space provides extra room for your home's electrical wiring, plumbing components, and HVAC equipment. The height of the crawl space is limited, and getting into the area must be done by crawling, either on your stomach or your hands and knees. 
Crawl Space vs. Basement
Crawl spaces are typically used in damp climates, where the water table is too high to construct a basement. Keeping the home off of the ground keeps it away from moisture. Crawl spaces are also sometimes used in construction when a basement is too costly, because installing a crawl space is cheaper than installing a basement.
A basement is a popular type of foundation that can add space and functionality to a home. Basements are often used as storage space, living areas, or both. A basement combines elements of a slab and crawl space. Basements can be a great addition to a home, but they can't be built in areas with high moisture levels or unsettled soil. They are also the most expensive type of foundation to build.
How to Maintain Your Crawl Space
If your home has a crawl space, take these steps to maintain it:
Encapsulate it

This is the key to moisture control. Insulate the crawl space – seal all leaks and holes to prevent air from getting into the house, design gutters so they will divert water away from the foundation, and design your landscaping so it will also direct water away from your house.

Clean it out

DIY or hire someone to clean out your crawl space. Seal off dirt floors with a moisture retardant to keep bugs from living in them. Be sure to clean your crawl space regularly and air it out. If you notice

signs of mold, call a professional

restoration service to remove it completely. The mold will reduce the air quality home and cause health problems if not remediated. If the moisture and mold are because of stagnant water in your crawl space, dry it and have a perimeter drain installed right away.

Stop Pests

Inspect your crawl space for signs of rodents and seal off any possible points of entry, such as seams and cracks, but don't forget about ventilation. You may want to try installing laminated water vapor barriers for proper ventilation.

Add Insulation

Most crawl spaces use fiberglass batts, which become even more effective with spray foam insulation, which lightly seals your crawl space against air movement and heat transfer. Use spray foam to fill gaps in every nook and cranny. This should help keep the cold air in and warm air out during the summer and vice versa during the winter.

Check air ducts for any leaks or holes and apply a mastic tape or use insulation duct wraps with an R-value rating as specified by the building codes in your area.

Use a dehumidifier

Once you've cleaned and properly insulated the crawl space, you can set up a commercial dehumidifier unit to help regulate the air. The dehumidifier will keep the air in the crawl space at a comfortable temperature. It will also help prevent mold from growing in the space. Look for a dehumidifier with a thermostat that can automatically turn on only at pre-set times. 
Don't let a dirty and damp crawl space cause problems with your home and to your bank account. Clean it up, insulate it, and keep it dry. 
Call Complete for Crawl Space Problems
Damp crawl space? Standing water? Mold problems? We use state-of-the-art equipment and a team of IICRC Certified technicians to purge your property of water and moisture. Our skilled technicians have proven expertise in water damage removal and
provide professional services 24/7
, so if you discover water or mold issues, we should be your first phone call. 
We
provide services
that include:
Dehumidification service

Water extraction services

Complete structural drying,

Mold and environmental remediation

Content Cleaning

Drying and reprocessing

Document salvage

Electronics restoration

Structural repairs
To us, your satisfaction comes first. Our emergency crews are always ready with the equipment to come to your rescue when the need arises.
24 Hour Emergency Service
Our emergency response teams are available 24 hours a day, 365 days a year using the most up-to-date technologies and is proud to employ quality professionals with superior skills and certifications. Our team is fully insured, licensed, and is registered to do business in the Pensacola, FL, Tallahassee, FL, and Mobile, AL areas.