Everyone Needs an Evacuation Plan
There are many kinds of emergencies that cause an evacuation. These can be fires, hurricanes, tornados, floods, and earthquakes or even volcanos. 
While in some cases you might have time to prepare, there are situations where you are going to just have to get up and go. It's vital to have an evacuation plan so you know you and your loved ones can leave quickly and safely no matter what.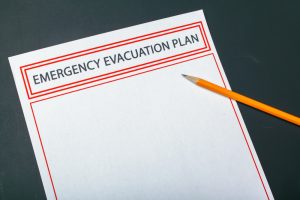 The first step in any evacuation plan is to establish is a safe spot, a central storage location for emergency supplies. This could be your garage, a shed in the backyard, or any place where there's little chance you'll be harmed and nothing will fall into your path to get there.
What to Have in Your Safe Spot: A Checklist
While there may be other items to add to this list of emergency supplies because of your circumstances, these are items
you definitely need
. Some are things you will keep in storage. This is also a great place to keep computer backups and that fireproof box with important papers.
A flashlight

A portable radio

Batteries

First-aid kit

A whistle

Canned food and a non-electric can opener

Dog and cat food

Moist towelettes

Local maps on paper

Phone chargers

Laptop chargers

Water

Any medications

Any important hard drives or flash drives

Sleeping bags and blankets

A pocket knife

Warm clothing

Sturdy shoes

Leashes for pets

Toiletries

Towels and washcloths

Social Security cards and passports

Any keys you need

Money

Important papers
Those are the must-have items in any evacuation plan, but it might help to have:
Books

Toys and games to keep children occupied

More clothing, pillows and blankets

Paper towels

Disposable plates and cutlery
Store everything in carry bags so it's ready to go with you when it's time. You may not have time to package things up right before you go.
Plans to Make Before You Evacuate
Now that you have your stuff safely stashed in your safe spot, it's time to think about who, how, when and where you'll go. 
Plan

how you'll leave and where you'll go. 

Identify several places you can go

in an emergency, such as a friend's home or a hotel. Choose destinations not only in different towns but in different directions so that you have options during an emergency.

If you have pets

, find a place to stay that

will accept them

. Most public shelters only allow service animals.

Create a family/household plan

to stay in touch in case you become separated. Make sure you have a meeting place—this could be your safe spot—and keep it updated when circumstances change.

If you have a car:

Keep a full tank of gas if it's likely you'll have to evacuate. Keep a half tank of gas in it at all times just in case there's an unexpected need to evacuate. Gas stations may be closed during emergencies and unable to pump gas if there's a power outage. Plan to take only one car per family to reduce traffic congestion and delays.

Make sure you have a portable

emergency kit in the car

.

If you don't have a car

, plan how you will leave if needed. Decide with family, friends or your local emergency management office to see what resources may be available.
The Last-Minute Things to Do Before You Evacuate
Before you leave your home, take care of a few last-minute things in case you are able to return. 
Your evacuation plan should include unplugging all electronics, shutting off the water, electricity and gas, locking all doors and windows, and leaving a note in a place where it can easily be seen. Your note should include your name, number, who you have with you, and where you have gone.
During the Evacuation
The Federal Emergency Management Agency (FEMA) recommends the following during an evacuation:
Grab your emergency supplies from your safe spot.

Download the

FEMA app

for a list of open shelters during an active disaster in your local area.

Listen to your car or battery-operated radio, and follow evacuation instructions.

Follow recommended evacuation routes. Don't take shortcuts as they may be blocked.

Stay alert for road hazards like washed-out roads or bridges and downed power lines, and don't drive into flooded areas.
If You Can Return Home After the Evacuation…
Returning home after an evacuation can be a disheartening experience if your home is left damaged by wind, water or fire. You want your home back the way it used to be, but you already have so much to deal with that it seems an insurmountable task.
This is where restoration contractors come in. They provide property restoration services such as mold remediation, water damage remediation, fire and smoke damage remediation, storm cleanup, emergency response, and construction services. 
Complete: Restoration and Remediation When You Need It
Complete
has over 75 years of combined experience in the restoration industry and is proud to employ quality professionals with the skills and proven track records to ensure satisfaction with our work. Our team is fully insured, licensed and registered to do business in many states.
We have locally based teams throughout the country that provide property restoration services such as mold remediation, water damage remediation, fire and smoke damage remediation, storm cleanup, emergency response, and construction services, so we can be there whenever and wherever you need us. We offer state-of-the-art equipment and rapid service with a personal touch. 
You can be confident in hiring Complete. We're:
With locations in Tallahassee and Pensacola, Florida, and Mobile, Alabama, we're ready to help you with any fire restoration needs. You can
contact us here
with any questions and call us in Florida at 850-CALL-DKI and in Alabama at 251-CALL-DKI. 
24 Hour Emergency Service
Our emergency response teams are available 24 hours a day, 365 days a year using the most up-to-date technologies and is proud to employ quality professionals with superior skills and certifications. Our team is fully insured, licensed, and is registered to do business in the Pensacola, FL, Tallahassee, FL, and Mobile, AL areas.