Replacing Water Damaged Floors: What Are The Choices?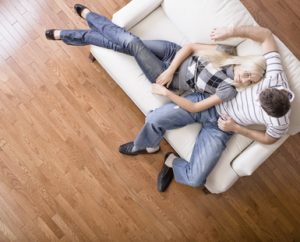 In the heat of the summer, your A/C leaks on the floor. Or the kids let the bathtub overflow. Or a joint cracks under the kitchen sink. Not only do you have the primary problem to solve, your floors suffer from standing water.
If you are planning a renovation, or are recovering from a flood, what are your floor replacement choices? What are the best materials for kitchens, baths, and basements?  Which floors can hold up against excess water, and which will degrade or mold?
Best Choices
Porcelain and ceramic tile provide the best defense against pooled water on floors. The tiles are solid but the
grouted seams
can leak; maintain a regular grout sealing schedule.
Many styles of vinyl flooring are relatively inexpensive and hold up well against household spills. Sheet vinyl is waterproof and usually has very few seams that allow water to penetrate to the subfloor. Waterproof core (WPC) vinyl plank flooring has improved immensely; it's even more durable and can realistically mimic stone, wood and tile looks. Plus, it is softer to walk on.
Properly sealed concrete is an excellent choice for ground floors and basements. Many attractive treatments are available to keep it from looking like a parking lot: tinted, stained, polished or stamped surfaces.
Other Good Options
Many commercially available products give the look of wood floors in occasionally damp areas of the home. Well-installed engineered wood and laminate floors are water resistant but definitely not water-proof. So you must wipe up spills immediately and not allow moisture to seep onto the sides or under of the pieces.
In general, inorganic materials are more waterproof but here are three more organic options:
Old fashioned linoleum flooring is oil-based and naturally good against water. Like vinyl, however, linoleum tile has seams that water can work into.

Cork flooring offers a rustic, cushioned surface. When well-sealed, sheets of cork are a great alternative in entries and bathrooms due to mildew resistance.  Plus

cork

is also a natural insulator, so rooms are naturally warm and quiet.

Bamboo is a grass but bamboo flooring is heavily processed with chemicals and resins that are water-resistant (though not waterproof.)
Avoid in Wet Areas
Don't replace carpet bathrooms and laundry rooms; it retains moisture and promotes mold growth. Convert to a solid surface floor, then soften with washable bath-mats on a latex backing.
Solid hardwood flooring, particularly parquet or tongue-and-groove, is not recommended for damp areas in the home. Since wood is organic, excess water will be absorbed into the planks themselves.  Water damaged floors are a) difficult to refinish and b) provide a great place for mold to grow.
Preventing Water Damage To Floors
While you can't prevent floods or broken pipes, there are some things you can do to prevent and minimize water damage to floors.
Clean up water spills right away. Keep paper towels and rags in every room.

Keep door mats, bath mats, and other area rugs clean and dry.

Check regularly for drips under sinks, behind toilets, and around washing machines and dishwashers. Immediately fix any leaks plus any resulting damage to reduce this risk of mold.  
Consult A Water Damage Restoration Service
If you need assistance with water damaged floors, consult with a professional from a water damage restoration service. The team at Complete in Pensacola, Mobile, and Tallahassee is skilled in saving as many floors as possible.
For help in Alabama with floods and leaks, call 251-234-6895 or get more information  at
completedki.com
24 Hour Emergency Service
Our emergency response teams are available 24 hours a day, 365 days a year using the most up-to-date technologies and is proud to employ quality professionals with superior skills and certifications. Our team is fully insured, licensed, and is registered to do business in the Pensacola, FL, Tallahassee, FL, and Mobile, AL areas.