Short-Term and Long-Term Water Damage Tips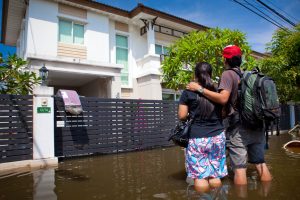 Whether it was weather related, plumbing related or just bad luck, water damage in your home is a hassle! Here are a few tips for staying safe, cleaning up the mess and making improvements for the future.
Immediately After Water Intrusion
When there is standing water in your home, rule # 1 is "safety first."
If you can, turn off the water to your home at the street valve. If it is safe to get to the breaker box, turn off the power. Never walk into the water inside a house.
Rescue your most valuable possessions first. If you can, find and remove your most important heirlooms, money, jewelry, documents, etc. Don't spend too much time cleaning individual items now; focus on salvaging only those things that are salvageable and nonporous.
Allow appliances to air dry. Do not use any appliances or outlets until completely dry. Don't run appliances if muddy water has left sediment on the engine or electronics. Check with each manufacturer for recommended action.
After the Danger Has Passed
Get those damaged items out of the basement and out to the curb. This is the messy, depressing step that is essential to control future mold infestations. Don't leave any wet materials for mold spores to find.
Dispose of damaged items responsibly: you'll be tempted to throw everything into a dumpster. Try to organize damaged goods into piles and recycle what you can. Be responsible about toxic materials; check with your city for proper disposal methods.   
Make the Best Of It For the Future
If water damage will require renovations, here are some opportunities to improve your home:
Better Materials And Methods
Refit your house with water-resistant building materials. Renovate and replace the materials in flood-prone areas of the house with materials such as stone, tile, sealed concrete, waterproof wallboard. Use galvanized or stainless-steel nails and fasteners to avoid future rust.
Raise your appliances. If your basement is prone to flooding, use risers to keep appliances up and out of small floods: washer, dryer, furnace, water heater, and wiring.
Reseal your basement; your once-waterproof cement floors and basement walls might deteriorate due to the water damage. Consider adding an emergency pressure release valve in your plumbing system to protect freezing pipes from bursting.
Review Your Roof
Inspect your roof for missing, damaged and aging shingles and make necessary repairs.
Check your downspouts. Remove debris that may have accumulated in downspouts and rain gutters. Position downspouts so that they direct water away from the house.
If your trees make gutter maintenance difficult, install gutter guards to prevent gutter clogs. Keep water flowing away from the house instead of accumulating on the roof.
Plan To Protect Your Possessions
Post-disaster: make a plan to store off-season and other bulk belongings in waterproof bins in attics and basements. Store belongings on shelving off the floor in basements. Keep documents in fireproof and waterproof boxes that are easily accessible in a hurry. Grab and GO!
Partner With An Emergency Planner
Instead of taking the burden of cleaning up the mess yourself, rely on a professional storm cleanup company with a proven track record like Complete.  As water damage restoration experts, they use state-of-the-art equipment and provide professional services -- 24/7. The Mobile based emergency response team will act quickly to arrive at your door within 2 hours.
Complete is your emergency partner to help quickly and safely recover after water damage at 251-234-6895.
24 Hour Emergency Service
Our emergency response teams are available 24 hours a day, 365 days a year using the most up-to-date technologies and is proud to employ quality professionals with superior skills and certifications. Our team is fully insured, licensed, and is registered to do business in the Pensacola, FL, Tallahassee, FL, and Mobile, AL areas.