Pool Maintenance Matters, Too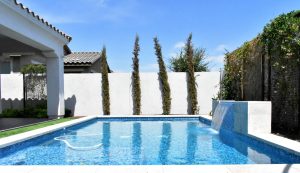 We love looking out for our community and their homes. One thing we don't often discuss are things outside the home that could still affect your property, such as pools. Pool maintenance is not just important to make sure you can stay cool in the summer, but to protect your property from
potential water damage
as well.While you may be servicing your pool, there are several things to check to ensure you're caring for your pool the right way. This includes servicing times, chemicals, water levels, equipment run times, filters, and chlorine. Let's take a closer look:- Don't only service your pool at the beginning of summer.- Be sure to have a
professional service
your pool in Spring and Fall.- Spring servicing makes sure there was no winter damage such as pipe damage or tears in the liner.- Fall servicing is the time to winterize your pool; have the pipes blown out to clear water and prevent expanding and/or burst pipes.- Each pool requires different chemicals and treatments. Wrong chemicals in your pool may lead to irritated eyes, skin, and mouth, and could cause materials in your pool to deteriorate – which could lead to future leaks.- If you don't maintain your chemicals and have proof of proper upkeep, pool surface companies won't warranty the material.- If your water levels are too low, you can burn out the pump. There's really no such thing as 'too full', in fact, make sure there's extra water in the pool if you're heading out of town to account for evaporation.- During summer, your pool pump and other equipment should run 8 hours a day to prevent
algae growth
. You can reduce the pump running time in winter, but make sure there is still circulation.If you have a pool, be sure to keep these tips in mind as pools can also be a source of burst pipes or leaks/flooding. We want your home to be as safe and prepared as possible, so you and your family can rest easy (poolside with a cold lemonade).For extra pool maintenance tips, take a look at the link below.
www.realtor.com/advice/home-improvement/common-swimming-pool-mistakes/
24 Hour Emergency Service
Our emergency response teams are available 24 hours a day, 365 days a year using the most up-to-date technologies and is proud to employ quality professionals with superior skills and certifications. Our team is fully insured, licensed, and is registered to do business in the Pensacola, FL, Tallahassee, FL, and Mobile, AL areas.