Water Damage Requires A Plan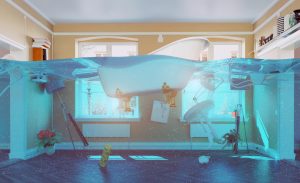 The only good "water event" is a planned family trip to the
Fort Walton Beach
! All other water events are unplanned disasters such as broken pipes, sewage back-ups, or hurricanes. Your response can mean the difference between a minor inconvenience and long-lasting damage to a home and its contents. In addition to the time and cost associated with restoring the home, serious indoor air quality problems might occur as the result of mold. So, quickly engage a full-service team to help you make a plan to restore your home. As soon as it is safe, a team like
Complete
will attack the problem quickly and efficiently.
Plan The Work
As you tackle the situation, you and the water remediation team will work together to streamlinethe process. Some tasks that will fall to you are:
Contact utility companies promptly, and shut off water, gas, and electricity.
Make sure all your home's occupants know what happening and why. (For example, a helpful—but untrained— family member might turn off the fans at night and slow the drying-out process.)
Take photos or videotape the damage before beginning remediation measures.
Work The Plan
Time is of the essence, mold can begin to grow in less than 48 hours. Work with the entire team to move wet or unsalvageable materials out of the home. Do not transport debris through the house; keep contaminants and mold from spreading to uncontaminated areas of the home.
Ventilate the structure.
Fresh, moving air discourages microorganism growth. If power is out, open windows and doors, and air the structure out thoroughly during daylight hours. It is highly recommended that ventilation is maintained during the restoration effort.Dehumidifiers, air movers, and air scrubbers will be placed for maximum effect. Industrial air machines can be 2-10 times more efficient than those designed for home use. Take advantage of them early in the process to improve the odds of salvaging your possessions.Porous floor materials (including concrete and cement) may absorb considerable quantities of water and contaminant. Non-porous materials may trap moisture and prolong drying. It's difficult to see the extent of damage with just the naked eye.
Consult with a water damage team
on whether to salvage or remove; they have specialized equipment to measure the moisture.
Be on the Look-Out For Mold
Molds are a natural part of the environment and are always present. However, with this added moisture their growth amplifies. As you recover from the water damage, keep your eyes (and nose) aware of the signs. Mold can be recognized by sight and smell. Are the surfaces of walls and ceiling discolored? Mold can appear as a splotchy discoloration ranging from white to orange, and from green to brown to black.
Mold
cannot always be seen; however, it can be identified by a musty, earthy, or foul smell.
Partner with an Emergency Planner
Instead of taking the burden of cleaning up the mess yourself, rely on a
professional water damage cleanup company
with a proven track record like Complete. As water damage restoration experts, they use state-of-the-art equipment and provide professional services -- 24/7. Fort Walton Beach emergency response teams act quickly to provide fast response andarrive at your door within 2 hours.
Complete
is your emergency partner to help quickly and safely recover from water damage.
24 Hour Emergency Service
Our emergency response teams are available 24 hours a day, 365 days a year using the most up-to-date technologies and is proud to employ quality professionals with superior skills and certifications. Our team is fully insured, licensed, and is registered to do business in the Pensacola, FL, Tallahassee, FL, and Mobile, AL areas.