What Is Causing Water Damage?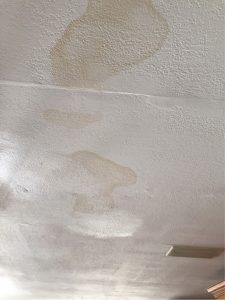 Don't necessarily assume that the only things causing water damage in your home are from the interior of the home. Of course, most water damage located in the interior part of the home is due to a variety of problems:
plumbing leaks
broken or burst pipes or hoses
washing machine overflow
a clogged toilet
moisture behind walls
a leaking roof
foundation cracks
The exterior of your home can create just as much water damage as the interior. Always check your gutters for debris as this can cause clogging. Make sure the downspouts are extending past the home at least six feet from the property. The French drains, ditches, and culverts need to be checked and monitored. Your sprinklers and irrigation systems need to be monitored and turned off in the winter to prevent pipes from freezing. Nature could also cause you to experience water damage, as in heavy rainstorms and flooding.
Don't Wait to Call a Professional
If you happen to experience a
water damage emergency
, be sure to take immediate action by calling a professional water damage company like
Complete
in Walton County to do a thorough inspection of your home, not only where the water happened to be, but throughout the house to ensure that there is no further damage. Homeowners underestimate how much damage water can actually cause. Homeowners mostly only notice the damage done to the surface but certified and
trained professionals
will be able to look beyond the surface to ensure that your home is safe and sanitary for you and your family.If water is not removed with expertise, the water will get trapped inside drywall, wood, and carpet fibers, causing mold to grow. Moisture is the main enemy as it is capable of getting into any space and taking advantage of every structural problem.
Mold begins to grow
within 48 hours of water being in the area. The mold will also begin to start slipping behind the walls and start to release spores. This type of situation can quickly get out of hands if not treated correctly by a certified professional.Don't forget that mold is not the only hazard. The water can be contaminated, leaving structural problems and bio hazardous threats. Dirty water contains many types of deadly substances, causing severe health risks. The deadly substances range from chemical residues to animal feces to parasites. A couple examples of these health risks are salmonella and hepatitis, and the bacteria, viruses, and fungi from flood or sewage water can leave you seriously ill even by momentary skin contact.If you have a
water damage emergency
in
Walton County
, don't hesitate to contact a specialist that can determine the extent of the damage and get it repaired immediately. Even a small amount of water in your walls or under your sink can create a major problem if not taken care of right away. You will save yourself a lot of time and money by not waiting to contact a professional for an evaluation. Take control of your situation before it controls you. Contact a certified professional that wants to help you!
24 Hour Emergency Service
Our emergency response teams are available 24 hours a day, 365 days a year using the most up-to-date technologies and is proud to employ quality professionals with superior skills and certifications. Our team is fully insured, licensed, and is registered to do business in the Pensacola, FL, Tallahassee, FL, and Mobile, AL areas.