3 Basic Things Mold Needs To Grow In Your Home or Business?
Avoid giving Mold the things it needs to grow!
Nutrients (food), suitable place to grow, and moisture are the only three things needed to have mold grow and spread quickly.   These three things are not hard for mold to find.  Mold can be hidden in walls, under carpets, behind ceiling tiles or it can be visible and growing right in front of your eyes.  How do you know if you have mold?
Look for visible mold growth (it may look cottony, velvety, rough, or leathery and have different colors like white, gray, brown, black, yellow, or green). Mold often appears as a staining or fuzzy growth on furniture or building materials (walls, ceilings, or anything made of wood or paper). Look for signs of moisture or water damage (water leaks, standing water, water stains, condensation, etc.).
Check around air handling units (air conditioners, furnaces) for standing water. Routinely inspect the evaporator coils, liner surfaces, drain pans and drain lines.
Search areas where you notice mold odors. If you can smell an earthy or musty odor, you may have a mold problem.
If mold-allergic people have some allergy symptoms when in your home, mold might be the problem.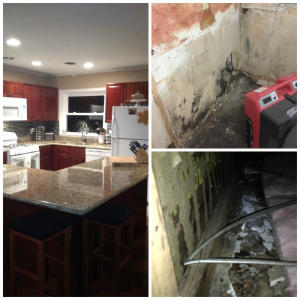 Before and After picture of one of Complete's mold projectsBleach does not kill mold, that is a long time myth.  But do not stress or worry if you notice the odor of mold or see mold growing, Complete is here to help you!  As a state certified company in Florida and Alabama, we have a professional team of mold remediators, trained and licensed by the state to rid your home of mold.  We start with determining the extent of mold infiltration and then begin the remediation process. Whether it is mildew, mold, or black mold affecting your premises, we are efficient in treating all types of mold problems caused by water damage, poor ventilation, high moisture, leaking pipes and ceilings.Our staff offers professional mold restoration services for all types of residential, commercial and industrial settings, ensuring best possible results for you. To us, safety of our staff and satisfaction of our clients comes first, so we use the safest products that can purge your property of mold while ensuring that our workers are in a safe environment. We are constantly evolving to improve our mold restoration Pensacola services through new processes, product testing, and new mold remediation equipment. We take pride in outperforming our competition while following the
IICRC-S520
standards.  Most home insurance covers mold damage and Complete will deal with your insurance company and the claims.  Call us today for a quote or any questions you may have 850.225.5354
Check out what
Brice Pelfrey, CPM, Director of Property Management, Beck Property Company, Inc. said about his mold experience with Complete.....
" I have used several mold remediation companies in the past, and tenants are very rarely completely satisfied once the work is done. Usual tenant complaints are of headaches due to mold still in the facility or call weeks later and say the mold had returned. The last time I had a mold problem, I called Complete. They performed the work after hours so that regular business would not be interrupted. They performed all the mold remediation, and I have not had a single complaint from the tenant. I was very impressed with how thorough the crew was with the mold removal and I was especially pleased at how quickly Complete finished the job. I highly recommend Complete. " 
24 Hour Emergency Service
Our emergency response teams are available 24 hours a day, 365 days a year using the most up-to-date technologies and is proud to employ quality professionals with superior skills and certifications. Our team is fully insured, licensed, and is registered to do business in the Pensacola, FL, Tallahassee, FL, and Mobile, AL areas.