Content Restoration: Save What's Precious When Disaster Strikes
The damage to buildings after a fire or water emergency is pretty obvious. Less obvious is the damage to your belongings. Grandma's rocking chair and that heirloom quilt might look okay, but chances are they've suffered some sort of contamination.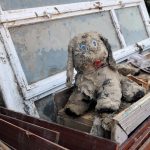 After a disaster in your home, all of the contents must be cleaned and sterilized by professionals. Trying to clean up yourself only risks further damage to valuable and sentimental items, and without the proper content restoration, they may not be salvageable.
What is content restoration and what can you expect?
What is content restoration?
It's worth repeating: Content restoration is not a DIY job. 
A professional restoration company knows what is likely salvageable and what isn't. They will try to save as many things as they can.
In the past, damaged furniture, clothing, and electronics would end up in the landfill. But technological advances have made it possible to restore items that were once considered unsalvageable.
The goals of content restoration
Not everything can be saved, but the overall goal is to clean and repair possessions that suffered smoke, fire, water or mold damage.
Your insurance company likely will want to see what can be repaired or restored before paying out for replacements, and restoration means you get to keep precious possessions like photos, family heirlooms and original art, all of which can't be replaced.
Content refers to anything inside your home that can be moved from room to room or taken off site. Your professional restoration company will use a variety of cleaning processes to clean your household items, including: 
Dishes

Appliances

Linens and Clothing

Furniture

Artwork

Antiques 

Heirlooms

Decorative items

Area rugs

And more
Some things may need to be removed from the house and packed away for storage until the recovery process is finished, or taken away to be cleaned and restored. Some items will need to be cleaned on-site, like wall-to-wall carpeting.
Can your possessions be salvaged? 
Salvageability and restoration depend on the type of damage and how serious it is.
Clean Water Damage.
Clean water damage comes from flooding that doesn't contain sewage. This could mean a leaky roof and damage from rain or a burst pipe in the winter. 
Clean water doesn't pose an immediate risk to your health. This means that the largest consideration is whether restoration is more cost-effective than replacement. If water has fully penetrated porous materials like sofa cushions or mattresses, restoration becomes more difficult and more expensive.
Sewer Water Damage.
Anything that's porous, such as carpet, fabric, furniture, clothing, wood floors, or paper products usually can't be saved. The toxins and bacteria found in sewage are difficult to clean completely and incredibly harmful to human health. 
This means that it's usually not safe or cost-effective to even try to restore. Nonporous materials like concrete, tile, and vinyl often can be salvaged because their surfaces don't let sewage bacteria infiltrate.
Fire and Smoke Damage.
Materials that have been directly burned almost always need replacement. The fuel used by the fire and its size will often determine what can and cannot be saved.
Even if there's no obvious signs of damage, restoration can be complicated depending on the type of smoke residue. Anything that releases toxic chemicals will have to be disposed of properly, but other items may just need to be cleaned and resurfaced.
A professional can tell you what they can likely salvage and what they can't.
Steps for Content Restoration
To get the most out of restoration, it's important to contact a professional immediately after the disaster. The longer you wait, the less likely successful restoration becomes.
This will help you out with your insurance claim, because they will want proof of what you owned and the value. Your restoration team will create an accurate inventory that lists both salvageable and non-salvageable items.

Your belongings will be packed up. If there are things that can't be saved, they'll be disposed of with an eye toward recycling as much as possible. 

Hazardous items will be separated from others headed for the landfill or recycling. Lead, asbestos, and mold-damaged items will be packaged and disposed of in compliance with all local, state and federal laws.

Construction waste, electronics, furniture and large appliances also need to be disposed of properly, following state and local ordinances, and components recycled where appropriate.
Complete Provides the Best in Content Restoration
Whether it's fire or flood, as skilled artisans, we offer professional services and the workmanship you need to get back on track. 
Our well-trained team of experts use specialized equipment to carry out fire damage restoration quickly. And we know all-too-well the importance of immediate mold prevention and remediation in situations with water damage. We maintain comprehensive documentation throughout the content cleaning process to keep you informed and help with your insurance claim.
At Complete, we do our best to save your personal possessions and restore contents, including artwork, clothing, furniture, computers, and electronics to their prior condition. 
As consummate professionals, we'll ease your pain and give you peace of mind. So when disaster strikes, reach out to
Complete
. We're available 24/7.
24 Hour Emergency Service
Our emergency response teams are available 24 hours a day, 365 days a year using the most up-to-date technologies and is proud to employ quality professionals with superior skills and certifications. Our team is fully insured, licensed, and is registered to do business in the Pensacola, FL, Tallahassee, FL, and Mobile, AL areas.