Do You Need Flood Insurance if You Live in Alabama?
Flood insurance is a nice thing to have no matter where you live. However, in Alabama, chances are you will use your flood insurance sometime during the life of the policy. That's because flooding happens to be the
second most common natural disaster
, with one occurring nearly every 12 days. 
With
56" of rainfall
every year in the state, coastal counties aren't the only areas affected by flooding; however, they definitely get the brunt of it. Three of the ten
costliest hurricanes
in United States history affected the Alabama coastline, including Hurricane Katrina, Hurricane Rita, and Hurricane Ivan. All three hurricanes caused significant flooding. 
So if you live in Alabama, it might be time to look into flood insurance and what it can do for you, your family, your home, and your overall peace of mind. 
What Is Flood Insurance?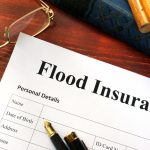 Flood insurance
covers a home for losses that are sustained by water damage due to natural flooding. This could include heavy or long-lasting rain, melting snow, coastal storm surges, blocked storm drainage systems, or levee failure. That means if you sustain any damage from these things, your home and the contents will be covered. 
However, in most states, a flood is considered an "act of God". This means any damage caused by them is not covered in your standard home policy. Home policies cover water damage from something like a burst pipe or interior damage caused by rainstorms; however, floodwaters aren't included in that. Instead, you'll need to purchase supplemental flood insurance to be fully covered in the event of a flood. 
How Does Flood Insurance Work?
Like most forms of insurance, the insured member pays for an annual premium based on the flood risk of the property and the deductible bracket they choose. In the event of a flood, the insurance pays to the policy limit for damage to the property structure or its content if the flooding is caused by an external event. The money is then used to repair the damage, clean and renovate the dwelling, replace the damaged contents, or rebuild the structure. 
Flood insurance can be purchased for private and commercial properties alike. 
What Is the National Flood Insurance Program?
Offered through the Federal Emergency Management Agency (FEMA), the
National Flood Insurance Program
provides flood insurance to property owners whose property has been designated to be in a high-risk area for flooding. The actual insurance policies are provided through private companies, but FEMA keeps maps up to date to monitor areas that may be at high risk for flooding. These flood zones are updated regularly to keep up with new and intensifying flood patterns. 
How Much Does Flood Insurance Cost?
The NFIP monitors the price of flood insurance nationwide, so the cost will not differ between companies offering the policy. The average
annual cost
for flood insurance is $700 depending on a variety of factors, such as:
How close your home is to a body of water

What kind of elevation your home may be on

The structure of your home

Whether you want replacement cost value or actual cost value on your belongings

The age of the property

The number of floors the structure has 
If you live in a community that has implemented certain flooding safety measures, you may also qualify for a discount on your insurance. 
What You Should Do After a Flood
If you've experienced damage to your property because of a flood, it is vital that you immediately contact a reliable disaster restoration company like
Complete
to help you clean up and restore your property. Water damage can cause serious long-term damage to your property while promoting mold growth. In short, any large scale flooding damage can become a serious health and safety hazard rather quickly. 
Complete has decades of experience in getting the property owner's dwelling up and running again quickly and efficiently. Our team's ready to  help you through the entire insurance claims process to make sure you are covered. With offices in Mobile, AL, we're fully licensed and insured to work in Mobile and Baldwin counties.
Contact one of our experts
today to discuss how we can help you — 24 hours a day, 7 days a week, 365 days a year — to get your property back in pristine condition. 
24 Hour Emergency Service
Our emergency response teams are available 24 hours a day, 365 days a year using the most up-to-date technologies and is proud to employ quality professionals with superior skills and certifications. Our team is fully insured, licensed, and is registered to do business in the Pensacola, FL, Tallahassee, FL, and Mobile, AL areas.