Women in Restoration: Sarah Hempel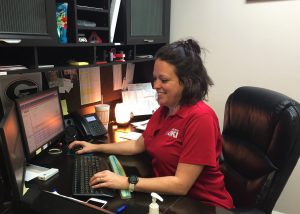 Last month we were excited to introduce our Women in Restoration series. In this series we highlight the women of Complete who are dismantling stereotypes. To continue our series, we met with Sarah Hempel from our Accounts Payable department. Sarah discussed her journey to the restoration industry, lessons learned along the way, and how her work-ethic makes her a powerhouse in the front office.
How did you get into the restoration industry?
I actually started off as a temp so this was completely by chance. After about 5 months, I was asked by the temp company if I wanted to stay on or move to another placement. I told them I wanted to stay because I love the atmosphere at Complete. We had just hit a growth spurt so I got to be a part of that next evolution in the company. That was January of 2017, right after the floods in Louisiana, so it was very busy.
When you were a temp, what were you doing?
I started at the front desk as a receptionist. Every phone call came to me and I had to funnel it out to everybody. The coordinators were more behind the scenes at that point so I had to filter through a lot of information between the front office and the back. I had to wear many, many hats…kind of like now, nothing has really changed! It was fast paced, there was always something going on. Every phone call was different and I worked one on one with each team member. I worked with reconstruction, mitigation, the coordinators, and the owners. I had my hand in absolutely everything which was amazing because that's also how you build a great line of communication.
Did you have industry experience before you came on?
No, but being in that position, within five months I knew everything I needed to know to do my job sucessfully. I was trained to input jobs, handle back of house things, quicker in fact than the admin stuff. We had a lot of jobs coming in so I worked one on one with a lot of departments. I was the first line of defense.
What was your background?
I started out working for a university in their accounts payable department. I worked there for six years then I worked at their vet-med building for another two years handling their accounts payable/accounting. After my youngest daughter was born, I felt like I wanted a change and started working for a boarding kennel. It was an opportunity that allowed me to be closer to my kids. I worked there for 8 years. I did everything from their accounting, to landscaping, to grooming, to training the dogs, everything. I had my hand in everything there too. It was a small business, it allowed me to see how much weight the owners bore to make sure the business kept running.Then I went back to school full time to become a computer networking specialist. It was one of those things where I thought, why not? I can do anything. My dad and I actually went to school together. Talk about another male-dominated field, computer networking is very male-dominated so it was less-threatening to have my dad there.
How did you find your way to Complete?
I was a stay at home mom for a year and a half, then I thought "I want to go back to work, I've never tried a temp agency, let's try that." They said this job was available, I interviewed and they asked me when I could start. When I started working it became a work-to-hire situation very quickly because there is so much industry knowledge that you get tossed in this field immediately that if you find someone who can absorb it, you hold onto them. At that time, there were very few females in the office.
Did you ever feel intimidated working in a male-dominated field?
A little. The guys have extensive knowledge, they have the training and the background, the verbiage. They know how to talk to insurance companies. And you're just sitting over here like "I just answer phones, that's all I do." Slowly I started to realize I'm actually a very vital part of this. They can't do what they do without having a filter or someone that can funnel the information to them.
Did you ever feel like you've hit glass ceiling?
Yes and no. I guess I avoid hitting that glass ceiling. If I feel like I'm going to hit a point where I can't go any further, I'll break off and shift focus. Even if that means going back to the bottom, it allows me to start growing in another area until I'm where I want to be. I cannot have defeat, I'm way too stubborn for that. There are things that honestly, I would rather have a guy do and things that I am not physically capable of doing but I know mentally I'm there with them. If there's a problem, I know I can work just as hard to figure out a solution as they can.
Is that an attitude you want to instill in your daughters?
Yes, very much so. If they see a need, I want them to go for it. I don't want them to wait until someone brings it to them, I want them to jump in. I try to tell them that the world is their oyster, that there's nothing that can hold them back except for themselves.
Did you face any other difficulties in this industry?
Internally I think we're leveling the playing field, externally there are still many more men in the field. It's still sometimes looked at by callers as "oh, you work in the office, you don't really know anything, can you get me to someone who does." Hey, I know enough, let me help you. Everyone is here to help people. As long as we keep that as the goal, it's not really a male or female thing, what you put in is what you get out. So, if I play the weak "I don't know what I'm doing" card, that's all I'm going to get out. I've been through way too much to be seen that way and feel like I'm wearing floaties all the time. I can take them off and swim on my own.
What is the best part of your career?
The opportunity to grow: there's always more things to learn if you ask. I like the fact that I can go to someone here and say "I want to learn that process." I know if I run into something that I don't understand I can ask for help and someone will explain it. love to learn.It also gives you an appreciation for what others do. That goes both ways. I think a lot of times people think "oh, you work in the office, you don't work as hard." It may not be physical, but it is mentally very tough sometimes. It's a lot of pressure with timelines and deadlines and there may be 15 people needing your little piece of information. People may think because you work in air conditioning and sit down all the time that it's easy. It's not. We juggle a lot at one time and it affects everyone, every department.It's a really cool industry and there's a lot of stress but I love it. When people see my shirt with the logo out in public, they always ask who we are and what we do. People automatically assume "oh, so you do hurricane stuff?" and I always say "we do so much more."  I love seeing them get that understanding that yes, we do hurricane and storm work, and yes, we can clean up from a burst pipe in your house, but we also do crime scene clean-up, a lot of people don't know that. Somebody's got to do it, and it's us.Before I started working here, I had no clue that a company like this even existed. Now I know. I had to have my roof replaced a year and a half ago. I immediately reached out to our mitigation manager and said "help, we've already made a claim but I don't know what to do next!" Having gone through that process myself helps me assist our clients better. I can talk people off that ledge when they're upset and explain that, behind the scenes, we are doing everything we can. That's a big part of what we do in the office. We're here
for
you, not against you.  We take a lot of pride in that. We have that softness, not just the technical knowledge. People need to feel that they are being heard.
How do you feel you are changing the industry or dismantling stereotypes?
By showing that we can do anything. If I don't know the answer, I'm going to find it, I'm not just going to pass it off to someone else. Also, by trying to learn different avenues of how the business actually works from what technicians do in the field, to what the sales team does, to how the reconstruction team works, all the way up to the insurance process. The more you know the easier it is to help somebody when they call.
Was there a role model who helped shape you and your career?
My dad, he is a leader by birth so having him be somebody who has guided me was very influential. He was an instructor for the Air Force Academy so he's had years of experience. I think being his child and seeing how he was able to lead others had an effect on my outlook. When I left home at 18, I immediately went into the work force. I chose work over college which made it a little harder but I was able to walk right into an amazing job at 18 making great money. What that instilled in me was how to actually work and stick to it. The more you stick to it and are willing to learn the more things will fall into place. It may not be right away but it will happen eventually. I think having my dad be a great leader set me up to have this ever-growing sponge in my head to absorb knowledge.We thank Sarah for taking the time to share some of her story with us. If you missed our first installment with Kristin Ruschel, catch up
here
and don't forget to check back in for the next interview.
24 Hour Emergency Service
Our emergency response teams are available 24 hours a day, 365 days a year using the most up-to-date technologies and is proud to employ quality professionals with superior skills and certifications. Our team is fully insured, licensed, and is registered to do business in the Pensacola, FL, Tallahassee, FL, and Mobile, AL areas.