Women in Restoration: Ashlee Carpentier
We are pleased to present the fourth installment in our Women in Restoration
series
. In this series we explore the perspectives of being a female in restoration. This week, we were thrilled to sit down with Vice-President and Co-Owner Ashlee Carpentier. She discussed with us her experiences in the industry as well as some insights about her role in Complete's recent response to Tropical Storm, then Tropical Depression Imelda.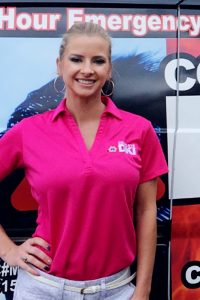 Why did you choose to go into restoration?
I feel like it picked me. I was doing my senior project in marketing on the marketing representative for the company that Shaun worked at before Complete. Right before my project was due, he put in his two weeks notice. Since I knew the marketing plan because that's what my project was about, they offered me the position and I accepted.
Do you feel you've encountered a glass ceiling at any point in your career in this field?
I kind of feel like it's been the exact opposite. Being a female professional has played to my benefit. People don't always expect you to know as much so just knowing your facts really blows people away. They're impressed that "oh, this girl knows what she's talking about," even if it's the same thing that the guy next to me might be saying.
What difficulties do you face in an industry that's male dominated?
I haven't really faced any. I don't think that there's anything that's been more difficult for me as a female in restoration to do than there has been for,  Shaun for example.  If anything, it's been more of an age thing than a gender thing because we are both young.
What's the best part of your career?
It has been such a shock to me, but I love human resources. I never thought it would be something that I would enjoy. I loved marketing and I almost feel that HR is marketing to your employees and keeping your employees happy. My employees are my clients and I know if I keep them happy then everything will go well.
Complete puts a lot of emphasis on their employees' well-being. Did you always have that employee-focused outlook?
It's something that we've always striven for. While building the company, we've always done what we had to do rather than what we were good at necessarily. Then we got to the point where we could hire people that were good at different things so Shaun and I were able to focus on what we're good at and what's important to us. I just moved myself to the position over HR and Culture this year, it's been a transition but it's what I enjoy and what I'm good at. It's cool to have a team that enjoys other things and are good at other things so that I can focus on this.
Do you see this as a key difference between the way you run your businesses and how others do in the industry?
We treat our employees as our most important asset. Others may say it's your equipment, your building, your property, or your fleet. All that's great but if you don't have the right people, it's just another truck. For us that's a big difference. We demand a lot out of our team, it's not easy to work here so we owe it to our team to give them a place where they love to work.
How are you changing the industry or dismantling stereotypes as a female in restoration?
It's hard to have an answer for that, I just put my head down and say and "screw everything else, this is what we're doing." That might be it more than anything, we're just going to be the best, that's what we're going to do.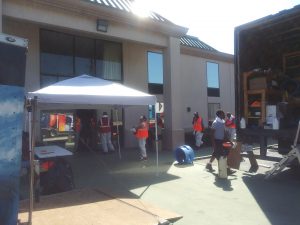 You recently responded to Tropical Storm, then Tropical Depression Imelda in Houston, Texas. What was that like?
In Houston I took on more of the project coordinator position. This entailed a lot; getting paperwork ready, compliance with state requirements, safety meetings, dividing the team up, assigning tasks for the day, keeping people on track, and making sure that that they had the resources to do what they needed to do.The big thing for me was every day laying out what needed to be done the next day and making sure that the team was ready and prepped for that and that they had the resources,  materials, and supplies.
That sounds like a big job.
Yeah! I enjoyed it; it was a lot of fun. We had a phenomenal team. That group of people had never worked together and we had some who had never worked a large loss before. So it is even more impressive that we had all of the paperwork done for the job the day after work was completed. That's a big deal for a large commercial loss because it's so complex. It was a really quick turnaround that made it much easier on the documentation side and also on the billing side.
As an owner, how often do you respond to a job in such a hands-on way?
It really depends. I
love
responding to large losses. I thrive off of the excitement. The days are intense and fun. You see all this progress happening and there are so many moving parts, so much to keep on-track. I love the excitement.As we've grown, there are definitely people in the company now who can handle the coordination and I don't typically need to go. This one was just the perfect storm; we were busy here, Shaun was at training, so I was the next in line to go. It's easy for me to step into that because I enjoy it and I'm good at it. It's not typical for me to go because we do have awesome team members who are also trained in that. Usually I stay at the office and do the HR side of things, making sure we have what we need here.
What would you say is your biggest take-away from working that job?
We focus a lot on communication. So for me, communicating well with the team what the plan is was the most impactful thing. With large losses, things can change very quickly; the difference between what's going on in the morning and what goes on in the evening can be significant sometimes. Making sure everyone is on the same page and making sure that everyone has the tools and resources to do what needs to be done.I think sometimes as managers we change things and we forget to communicate why we changed it. The team's doing it but they don't know why. Making that clear is also important; why we're doing it, how it will help the team, and the job as a whole to be completed faster and with higher quality work.Like I said, we had never all worked together on a large loss. Things went phenomenally, and I think we all took away the same things; learning more how to streamline that communication process.
How do you feel that your strengths as a female professional and leader assisted you in coordinating this job?
I think, in general, females tend to be typically more organized. We're more documentation driven versus "hey, let's get in there and get it done." In the restoration industry, everything is so fast paced, you can forget to document
how
you got it done. For a female in restoration, being that organized and being on top of that really helps the rest of the team. It was cool to see their strengths pick up my weaknesses and vice versa. It helps to balance that dynamic in general.
Females are often said to be more emotional. Do you struggle making difficult business decisions as a female in restoration?
I feel like it helps me honestly. I look at the big picture and how the entire team will be impacted. Allowing people to be in the right position is important, and being emotionally in tune helps me to do that.
Any final thoughts?
Always own the things that make you different. People may say "oh, you're too emotional or laid back or whatever," own that. Figure out how to capitalize on that. Just because you are a certain way, it should't be viewed as a weakness, women in restoration need to play to their strengths.
In case you missed our last interview with mitigation technician Gemika Edwards, catch up here.
You can also read the second in the Women in Restoration series here.
We aren't the only one's recognizing females in restoration. Restoration and Remediation Magazine highlights women across the industry each year. Check out current and past winners here.
24 Hour Emergency Service
Our emergency response teams are available 24 hours a day, 365 days a year using the most up-to-date technologies and is proud to employ quality professionals with superior skills and certifications. Our team is fully insured, licensed, and is registered to do business in the Pensacola, FL, Tallahassee, FL, and Mobile, AL areas.