Women in Restoration: Gemika Edwards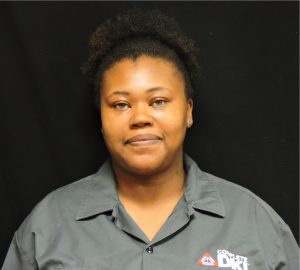 For the third installation in our Women in Restoration series, we met with Gemika Edwards. While she is new to the industry, her talent for learning quickly, drive to be successful, and immense heart has earned the respect of her team mates and made her a vital member of the Complete team. Gemika is currently the only woman on the mitigation team. We thank her for taking time from her busy day to share her experiences so far.You can read our interviews with Kristin Ruschel
here
and Sarah Hempel
here
. Join us again next month for our next interview.
How did you get into this industry?
Honestly, I needed a change, and I've always loved to learn new things. This was something I had not done before and didn't really know anything about. When I applied, I was honest that I didn't know anything but I was like "I'll tell you what, I can figure it out."
What were you doing before?
For years I was a cook, then I switched to being a school bus driver.
Do you have children of your own?
Yes, I have six, ages 8-16, almost 17.
With six children and a full-time job, how do you do it?
It's a balance. Sunday is my rest day, my co-workers know if I'm not on call, just chilling at home, let me have that one day to relax. I wash clothes, clean up and rest. Saturday is the "ok mommy we have to get to all these extracurricular activities; soccer, volleyball" we do all that. To be honest, if it wasn't for my mom, I'd probably have lost my mind. She's definitely the backbone of everything because what I can't do, she does for me; I'm lucky that I have her. When I'm here at work, and I'm here for 14 or 15 hours a day, I get them to school in the morning, she picks them up, takes them to practice, gets them home, dinner, baths, all of that. She does all of that for me. When I get home at nine or nine thirty, they're in bed.
What does your day look like typically?
It's usually hectic. You may get a two-hour drive to somewhere like Panama City and that will be your downtime. Then, once you get to your destination, you're doing everything that you need to do, whether its cleaning, ripping up flooring, or setting up drying equipment. The emergency response and emergency mitigation work has honestly become a little peaceful to me. If I have my music to listen to, I'm good.It can still be stressful though; sometimes you have the owners or customers there, and they're looking at you like "oh my God, you're really ripping up my floors." And you're just like "I'm sorry, I apologize, but they have mold in them." You want to make sure that you're doing everything correctly. Especially on something like a mold job, making sure that you're hepa-vacuming everything and wiping everything down, there's a lot of details to every job. To me it became about letting the customer know we got this and making my team proud and my managers proud. I want them to think "ok, she can actually do this." That's what I'm thinking about when I'm out there on a job, whether it's mold, water, or fire, I want to show that I can actually do it. I want my team to trust that they can send me out there and I'll be fine. That sits there in the back of my mind, not only just to make my team proud but to make sure that all the customers I do work for are satisfied.
Do you feel pressure from that responsibility?
I do, because I strive to be
great
at something. For example, I was a great bus driver, my kids respected me because I talked to them and treated them as if they were my own kids. I still have three that I keep in touch with. I text them at least once every couple of weeks and say "hey, how're your grades, what do you need help with?" I was also a great cook; I did that for 13 years. Even now, to this day, regulars come in and ask how I'm doing and how're my kids.
Would you say you're a perfectionist?
A little bit, I mean, I want people to say ok, 'Mika was here, 'Mika did this." I really do. When I'm totally into something, I'm going to put everything I have into it.
Do you feel like there is pressure on you because you came into this industry fresh? Do you feel the need to do well because you're a woman in what is a male dominated industry?
I wouldn't say that I feel that from my team, but more so from myself. I'm came into this blind, not knowing anything other than this was a chance to help people. Also being the only female on the mitigation team, you see the guys ripping up floors, you see them pulling out drywall, and doing all this stuff. Some of it, I struggle with but I wanted to prove to myself more than anything that I could do it.
Do you feel that the work ethic you brought from your prior jobs helped prepare you?
Yes, always, I try to teach my children that too. You put your all into whatever it is that you're doing. That's what it is here at Complete too. I don't clock out until I've done everything I could for the customer, big things and small things, it's the small things that make the difference in customer service. I worked in customer service for so long, it became a habit for me, making the customer happy. And especially when we are inside of someone's home, you really want to make sure that nothing is messed up and that you're not doing anything wrong so that they can move back in asap. You can see the stress on their face, especially if they have kids. We have to do our job properly so that they can get back to their normal lives. You have to put yourself in the customer's shoes.
Do you feel like you have faced any difficulties being a woman in this industry? When you walk onto a job, are people ever surprised?
Some of them are, I had one lady say "I don't see how you do this, I wouldn't know what to do with myself." I told her, it's all about learning. I'm a very hands-on person so I have to touch and learn by doing. As for being surround by guys all the time, you just have to adjust to it. I was raised around boys, I have two older brothers, so that has made it easier for me. I was around them and their friends so I talk just like they talk. It was different coming in not knowing anything and then surprising them.
You became IICRC certified quite quickly after starting, is that correct?
Yes and I was freaking out about that class. When I got there it was only two females, myself and an owner of another company. To help me prepare, I grabbed one of the guy's books and started looking through everything a month before. I would spend weekends in my downtime reading and then things would begin to click. The day Ashlee called me with my test results, I was so nervous. When she told me I made a 94 I was screaming, so happy and ecstatic. I would have been happy with a 75 (75 is passing) because it does get a little intimidating. You have all the guys here that know so much and I think that's one of the reasons why I like the team I'm with because everyone here, if I have a question, they will go out of their way to help. Phil especially is very approachable. You can go to him and ask him anything and he will tell you to the best of his knowledge. Don't get me wrong, they drive me insane and sometimes it's like having 15 extra kids but they help out a lot which has made everything so much easier. I fuss at them and they drive me insane but at the end of the day I still love them.
What's the best part of your career?
The most rewarding is getting a customer back to where they were before the loss. Whether it's drying something out or cleaning soot, to have someone say "thank you, we appreciate it." I've never experienced anything like that personally but I know I would be in disarray if I had to deal with it. I love helping these families get back to where they were so they can start their lives back. It's not an easy task but the first step always starts with us. I did a job recently where there was a little girl who was the most adorable thing ever. I was cleaning stuff out of their pantry and she was helping "Ms. Mika we gotta' get this" she was totally helping. For me it was great because her mom was telling me all of the issues they have had, health issues with her and she's only three, but she's in there asking all these questions about our equipment and helping us. Knowing that, while I played with her daughter for just a moment, her mom can just sit there and have somewhat of a peace of mind, that's totally awesome. She's already stressed out enough.
Was there anybody in your life who has been a mentor or role model to you?
My mom, she's my heart. She drives me nuts but she's my heart. I don't know what I would do if I didn't have her. Honesty it's something that I would lose my mind over if she wasn't around.As far as here at work, Kyler is that person. He is such a caring person. I've had to argue with past bosses about my kids; they come first over me, a job, anything. If something is wrong with one of them, the only thing I have to do is call Kyler and let him know. A month or so ago I had to call, "hey, my kid got sick in the car, I'll be a few minutes late" and he texted back, "ok, thanks for letting me know, no problem." No issues. I truly love that about him. He is one of the most understanding people there is. He doesn't judge and he definitely cares. That's one of the reasons I feel like I've found home here. He goes out of his way to make sure we get what we need.
24 Hour Emergency Service
Our emergency response teams are available 24 hours a day, 365 days a year using the most up-to-date technologies and is proud to employ quality professionals with superior skills and certifications. Our team is fully insured, licensed, and is registered to do business in the Pensacola, FL, Tallahassee, FL, and Mobile, AL areas.